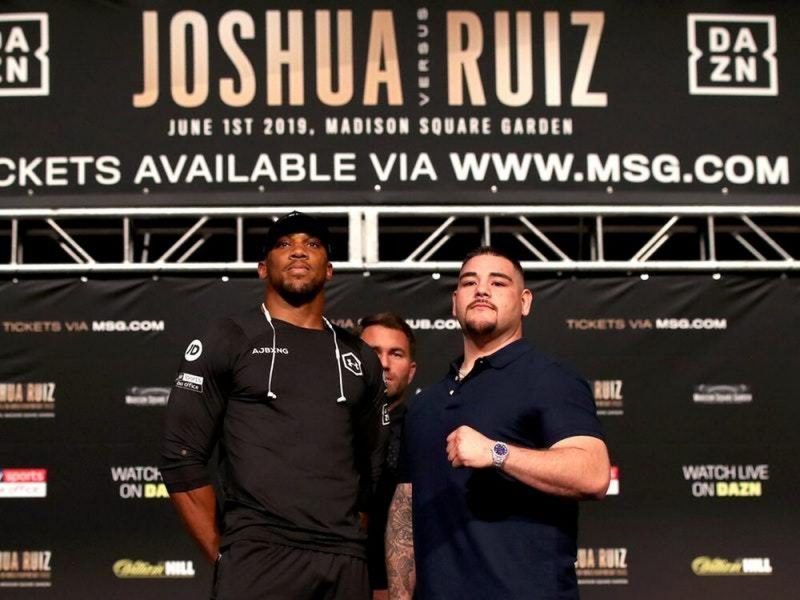 Anthony Joshua's latest title defence sees make his American debut as he fights in the world famous Madison Square Garden on Saturday.
The British star defends his WBA, IBF and WBO titles against Mexican challenger Andy Ruiz Jr, who was only handed the right a few weeks ago after Jarrell Miller failed a drug test and had to be replaced.
And the Mexican insists that he should not be underestimated, and that he can beat Joshua.
"This is my chance to make history," said Ruiz Jr. "I want to be one of those greats like Julio Cesar Chavez, Mike Tyson, Evander Holyfield, Lennox Lewis. I want to be in that category.
"I think the fight is going toe-to-toe, two guys smashing each other's faces. I'm going in there to throw combinations like I've never done before, to improve my speed.
"A lot of people underestimated me, and I'm used to that. My whole life people underrated me so I'm just going in there to take all. I'm not going in there scared and I'm not going in there nervous, I'm going to go in there mad and to take what's mine."
Joshua insists that he is ready for Ruiz Jr but is already looking at the future, as he still wants to unify the division – with the only belt missing being the WBC belt held by Deontay Wilder.
"People speak about being fully focused on 1 June. I am but you can't not look at the bigger picture," he said.
"I'm sure he is doing it himself. I don't put blinkers on about seeing the future potential.
"I will be confident in my ability and try and get him out of there in good fashion."
Bookmakers insist that Ruiz Jnr has little chance and Joshua's betting partner's William Hill have him at 1/20 and his opponent as long as 9/1.
WillHill state: "Much of the smart money will be on an early stoppage for AJ – whose 95% KO ratio is superior to past icons of the division like Sonny Liston, George Foreman and Mike Tyson. You can get 10/1 on a stoppage for AJ in round 1, and 5/2 on a stoppage in rounds 1-3.
"The key to the fight will be whether AJ can establish his jab and keep Ruiz at range. If he can methodically break Ruiz down in the early rounds, a KO could be on the cards later in the fight. It's 10/3 on AJ to stop it between rounds 7-9. We're top price guaranteed on round betting too."