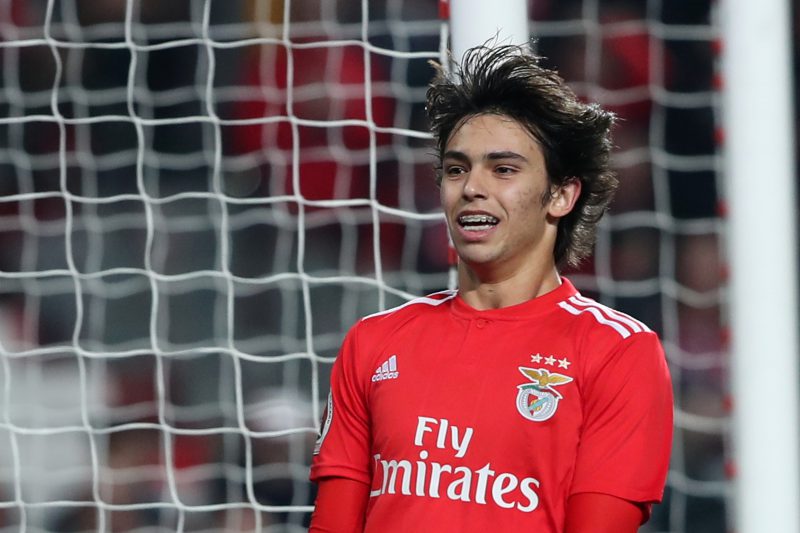 Manchester City are firmly in contention to land Benfica star Joao Felix, especially if Leroy Sane and Gabriel Jesus leave this summer.
Ideally City do not want to lose Sane or Jesus this summer, but both players are understood to have made their feelings known to the club that they don't want to spend another season as a bit-part player.
Sane dropped down the pecking order following a breakout season from Bernardo Silva and the signing of Riyad Mahrez – whilst Jesus has found his time limited – starting just eight league games – due to the continuing excellence of Sergio Aguero.
Bayern Munich have already made a move for Sane, whilst Jesus has generated interest from Atletico Madrid – who could be about to lose Antoine Griezmann. Paris Saint Germain have also made it know they are keen on both players.
City are reluctant to sell either player, but Pep Guardiola does not want to keep unhappy players and with that in mind, the club could consider offers whilst also looking at possible new forwards and one of those on their list is Joao Felix.
City are already in the market for a central midfielder, central defender and a full-back, but an attacker would only be signed if they lose either Sane or Jesus.
19-year-old Felix – who has interest from across Europe – including Juventus and Real Madrid, also has interest from some of City's Premier League rivals with Liverpool, Manchester United and also Wolves enquiring about him with his agent Jorge Mendes.
The player himself is celebrating being called up to Portugal's senior squad for the first time after a brilliant season, and he is looking to win the Nations League on home soil.
When speaking about his future he said: "I cannot pause to think about everything that is happening around me. My dream has always been to play for the big teams and in the biggest competitions.
"But as I said, I am here and I am very happy at Benfica, which, like those teams, is also one of the biggest sides in Europe."
Bookmakers believe there is a big chance Felix moves with BetVictor making Juventus and Manchester City joint favourites at 2/1 to land him.
Bayern are 1/2 odds-on favourites to sign Sane, whilst Atletico are heading the chase for Jesus at 4/1.