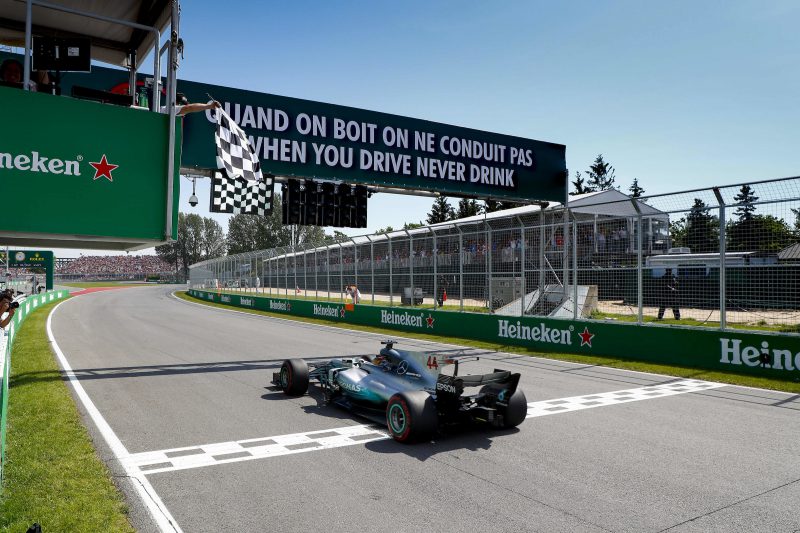 Can Mercedes dominance continue? could they be the first ever side to go through an entire Formula 1 season with losing a race? Those are the questions being asked in F1 as the bandwagon arrives in Canada.
After summer testing, many thought – including Mercedes themselves – that Ferrari and Red Bull would make this season one of the closest ever…but instead the opposite.
Mercedes have swept the board, winning every race and only the race they haven't finished 1-2 was Monaco last time out when they finished first and third.
Now in Montreal, will Mercedes continue their brilliant form at a circuit which world champion Lewis Hamilton love having won on six occasions – indeed another win would make Canada his most successful ever race.
Amazing Hamilton himself insists that he has not even performed that well so far this season.
"I definitely feel that it's been quite an average performance from myself, maybe above average but generally quite average for the first six races," he said.
"I feel like I've got the best I could get. I've arrived prepared – the best prepared I could be – but in terms of extracting the true performance from the car, I feel like I've struggled a little bit in these six races.
"I guess that's kind of similar to other seasons but without doubt it's going to improve as the knowledge you gain over the season, race by race, particularly with the tyres this year, where the window is even smaller.
"I hope, at some stage, that I'm able to crack the issues that I've had and get back to the form that I have within me. Whether that's the next race or 10 races from now, I can't really say but I am very, very focused on making sure I rectify any of those."
Here we are 🇨🇦 #essereFerrari 🔴 #CanadianGP pic.twitter.com/sO1HJSzXLB

— Scuderia Ferrari (@ScuderiaFerrari) June 6, 2019
But Ferrari chief Mattia Binotto admits their tough season may provide more pain before pleasure.
"We know we're not competitive enough right now and for the time being we haven't got any more changes coming on the car that will have a significant effect on the problems we have encountered since the start of the season," said Binotto.
"The Canadian track characteristics present another different challenge, given that top speed, braking efficiency and traction are the main considerations.
"We arrive here ready to do our best and to put the mistakes of the last few races behind us."
CANADA GRAND PRIX – ROUND 7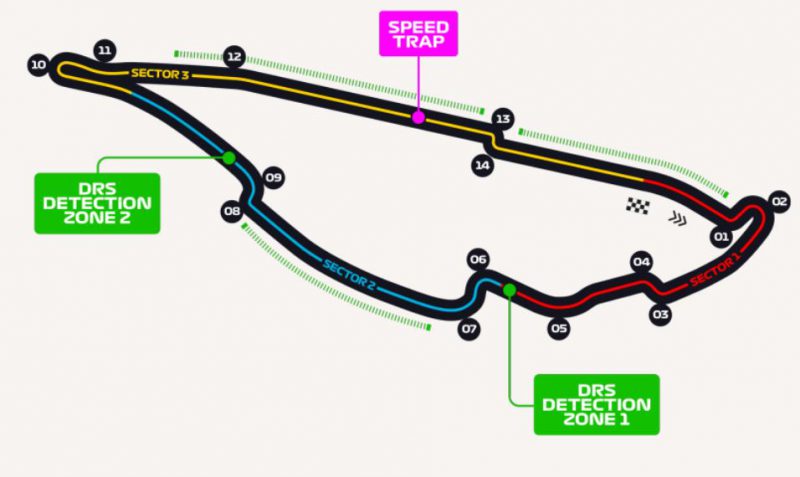 Location: Circuit Gilles-Villeneuve
Track size: 2.70 miles with 14 turns
Number of laps: 70
2018 winner: Sebastian Vettel – Ferrari
Lap record holder: 1:13.622 Rubens Barrichello (2004)
Race winner driver odds from Unibet: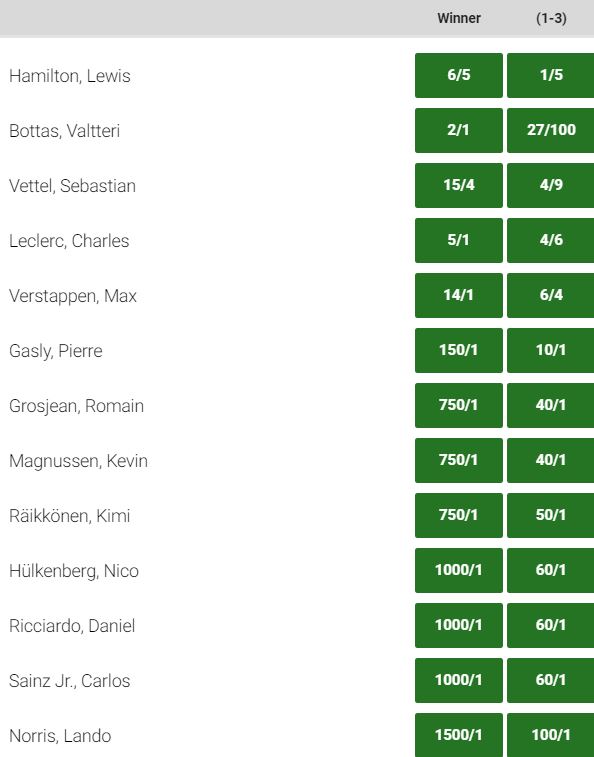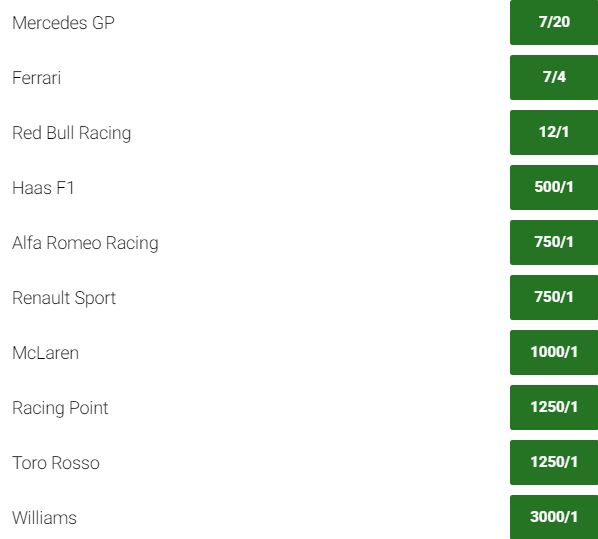 2019 Results
Australian Grand Prix – Valterri Bottas (Mercedes)
Bahrain Grand Prix – Lewis Hamilton (Mercedes)
China Grand Prix – Lewis Hamilton (Mercedes)
Azerbaijan Grand Prix – Valterri Bottas (Mercedes)
Spain Grand Prix – Lewis Hamilton (Mercedes)
Monaco Grand Prix – Lewis Hamilton (Mercedes)
Canada Grand Prix –
France Grand Prix –
Austria Grand Prix –
British Grand Prix –
German Grand Prix –
Hungary Grand Prix –
Belgium Grand Prix –
Italy Grand Prix –
Singapore Grand Prix –
Russia Grand Prix –
Japan Grand Prix –
Mexico Grand Prix –  
USA Grand Prix – 
Brazil Grand Prix – 
Abu Dhabu Grand Prix –
2019 Driver Standings
1 Lewis Hamilton GBR MERCEDES 137
2 Valtteri Bottas FIN MERCEDES 120
3 Sebastian Vettel GER FERRARI 82
4 Max Verstappen NED RED BULL RACING HONDA 78
5 Charles Leclerc MON FERRARI 57
6 Pierre Gasly FRA RED BULL RACING HONDA 32
7 Carlos Sainz ESP MCLAREN RENAULT 18
8 Kevin Magnussen DEN HAAS FERRARI 14
9 Sergio Perez MEX RACING POINT BWT MERCEDES 13
10 Kimi Räikkönen FIN ALFA ROMEO RACING FERRARI 13
11 Lando Norris GBR MCLAREN RENAULT 12
12 Daniil Kvyat RUS SCUDERIA TORO ROSSO HONDA 9
13 Daniel Ricciardo AUS RENAULT 8
14 Alexander Albon THA SCUDERIA TORO ROSSO HONDA 7
15 Nico Hulkenberg GER RENAULT 6
16 Lance Stroll CAN RACING POINT BWT MERCEDES 4
17 Romain Grosjean FRA HAAS FERRARI 2
18 Antonio Giovinazzi ITA ALFA ROMEO RACING FERRARI 0
19 George Russell GBR WILLIAMS MERCEDES 0
20 Robert Kubica POL WILLIAMS MERCEDES 0
2019 Team Standings
1 MERCEDES 257
2 FERRARI 139
3 RED BULL RACING HONDA 110
4 MCLAREN RENAULT 30
5 RACING POINT BWT MERCEDES 17
6 HAAS FERRARI 16
7 SCUDERIA TORO ROSSO HONDA 16
8 RENAULT 14
9 ALFA ROMEO RACING FERRARI 13
10 WILLIAMS MERCEDES 0
We also spoke with Alistair Gill of Unibet to get their views on the Grand Prix
Having won the opening 6 races this season, Mercedes will be aiming to make it 7 in a row in Canada this week and the market certainly suggest that they should achieve it, their 2 drivers once again the top 2 in the market.
Championship leader Lewis Hamilton can be backed at 5/4 to win the race, with Valtteri Bottas a 2/1 shot. However, the Silver Arrows team seem publicly concerned that the track will be much more suited to Ferrari, who won this impressively last year with Sebastian Vettel, with the German being available here at 15/4.
However, I wouldn't put anyone off a bit of a swing at Charles Leclerc, a man who is clearly closing in on, and absolutely desperate for, his first F1 win. A combination of bad luck and team calls have denied him that chance a number of times this season so far, but he is a 5/1 shot with Unibet and I think there is a bit of value in that price for the talented Monaco native, and a bit of early money appears to agree.