Formula 1 is back in Europe this weekend with the France Grand Prix – one of the oldest motor races in history.
World champion Lewis Hamilton remains firmly in charge of the Drivers' Championship following his fifth win of the season at Canada – which came after arch-rival Sebastian Vettel was handed a controversial time penalty after he almost crashed into Hamilton when returning to the track after going off, which meant he demoted from first to second.
And all the talk in the build up to the French GP has remained what happened in Montreal – but Hamilton insists he does not look at the 'mistakes' of other drivers.
"I don't compare myself to other people so I don't look to others or their faults or anything," he said.
"I just look to really try and take a lot of pride in my work and particularly my track record of not making mistakes, which I've managed to get myself into a really good place and deliver minimal faults in race weekends and races.
"21 races, every single point counts — even seven points, or three points, it adds up, so I take a lot of pride in that.
"It's all great being quick, having quick drivers, but if you can be an all-round driver, work well outside the car, but also in the car, you have things that perhaps others are not able to put together, it makes your value go up."
Vettel has been left fuming with what happened to him Canada, but Ferrari team boss Mattia Binotti insists they are looking ahead to another strong weekend.
"Following Canada we definitely want to get back on track and go racing with our rivals once again. In France we will have a few small evolutions, elements that represent for us a useful step in defining the direction we will take in developing the car," Binotti said.
"What we will be bringing won't be the solution to our problems, but the technical feedback we get from these evolutions will be important for the next steps we take."
Renault enjoyed their best weekend of the season in Canada, and they hope their home Grand Prix can signal more progress.
"France is clearly an important milestone," said team boss Cyril Abiteboul.
"Not only is it our home Grand Prix at Le Castellet, but also the opportunity to demonstrate a further improvement in our competitiveness.
"While Canada, a power sensitive circuit, underlined the gains made in engine performance, France will see the introduction of several development items on the chassis."
FRANCE GRAND PRIX – ROUND 8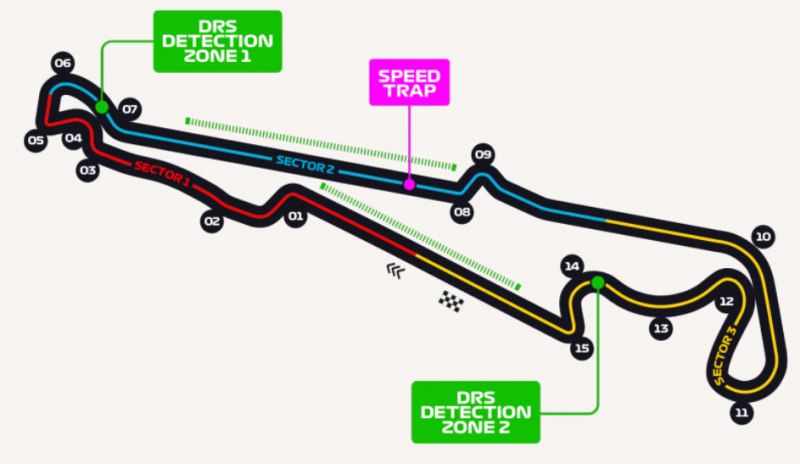 Location: Circuit Paul Ricard
Track size: 3.63 miles with 15 turns
Number of laps: 53
2018 winner: Lewis Hamilton – Mercedes
Lap record holder: 1:34.225 Valtteri Bottas (2018)
Race winner driver odds from Unibet: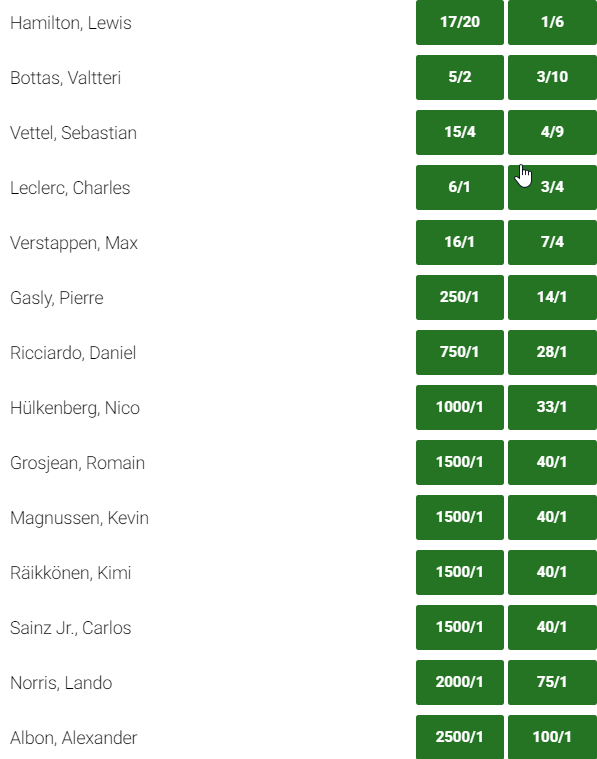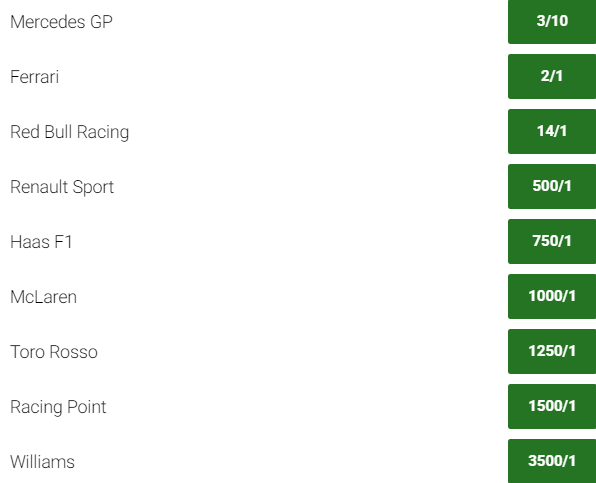 2019 Results
Australian Grand Prix – Valterri Bottas (Mercedes)
Bahrain Grand Prix – Lewis Hamilton (Mercedes)
China Grand Prix – Lewis Hamilton (Mercedes)
Azerbaijan Grand Prix – Valterri Bottas (Mercedes)
Spain Grand Prix – Lewis Hamilton (Mercedes)
Monaco Grand Prix – Lewis Hamilton (Mercedes)
Canada Grand Prix – Lewis Hamilton (Mercedes)
France Grand Prix –
Austria Grand Prix –
British Grand Prix –
German Grand Prix –
Hungary Grand Prix –
Belgium Grand Prix –
Italy Grand Prix –
Singapore Grand Prix –
Russia Grand Prix –
Japan Grand Prix –
Mexico Grand Prix –  
USA Grand Prix – 
Brazil Grand Prix – 
Abu Dhabu Grand Prix –
2019 Driver Standings
1 Lewis Hamilton GBR MERCEDES 162
2 Valtteri Bottas FIN MERCEDES 133
3 Sebastian Vettel GER FERRARI 100
4 Max Verstappen NED RED BULL RACING HONDA 88
5 Charles Leclerc MON FERRARI 72
6 Pierre Gasly FRA RED BULL RACING HONDA 36
7 Carlos Sainz ESP MCLAREN RENAULT 18
8 Daniel Ricciardo AUS RENAULT 16
9 Kevin Magnussen DEN HAAS FERRARI 14
10 Sergio Perez MEX RACING POINT BWT MERCEDES 13
11 Kimi Räikkönen FIN ALFA ROMEO RACING FERRARI 13
12 Lando Norris GBR MCLAREN RENAULT 12
13 Nico Hulkenberg GER RENAULT 12
14 Daniil Kvyat RUS SCUDERIA TORO ROSSO HONDA 10
15 Alexander Albon THA SCUDERIA TORO ROSSO HONDA 7
16 Lance Stroll CAN RACING POINT BWT MERCEDES 6
17 Romain Grosjean FRA HAAS FERRARI 2
18 Antonio Giovinazzi ITA ALFA ROMEO RACING FERRARI 0
19 George Russell GBR WILLIAMS MERCEDES 0
20 Robert Kubica POL WILLIAMS MERCEDES 0
2019 Team Standings
1 MERCEDES 295
2 FERRARI 172
3 RED BULL RACING HONDA 124
4 MCLAREN RENAULT 30
5 RENAULT 28
6 RACING POINT BWT MERCEDES 19
7 SCUDERIA TORO ROSSO HONDA 17
8 HAAS FERRARI 16
9 ALFA ROMEO RACING FERRARI 13
10 WILLIAMS MERCEDES 0
We also spoke with Alistair Gill of Unibet to get their views on the Grand Prix
The Mercedes domination almost came to an end in Montreal, but some steward intervention ensured it was business as usual as far as this season goes.
Lewis Hamilton is odds on favourite once again at 17/20, which certainly won't put many people off and it's pretty hard at the minute to see past him as the most likely winner. Team mate Valtteri Bottas is second favourite at 5/2 and again, although he has started the season in good form, it's hard to see him outperforming Hamilton come race day.
The Ferrari's are in behind, Vettel priced at 15/4 and Leclerc 6/1, with Vettel not completely unsupported in the market at the early stages as the pick of the value hunters. However, no doubt that come Sunday Lewis Hamilton is the one we will be fearing.