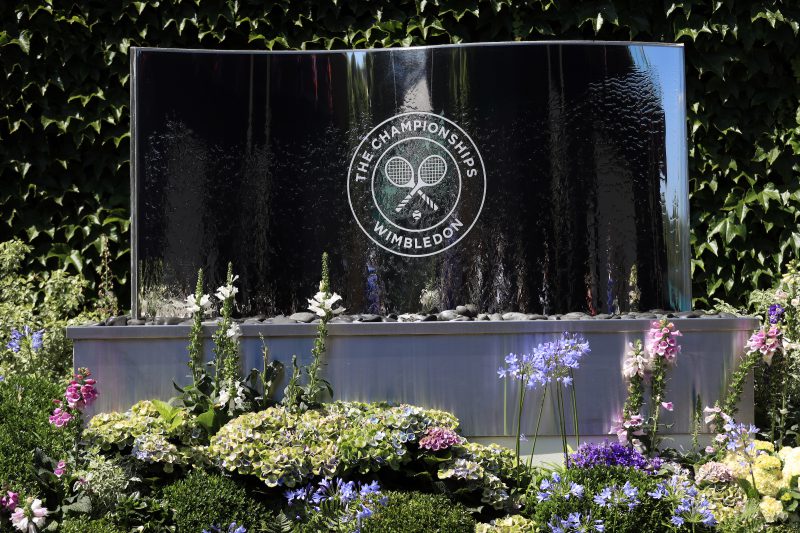 Summer really is here with Wimbeldon 2019! But looking at the men's draw we could be turning up at any point from the last two decades.
Since 2003 – nobody other than Rafa Nadal, Andy Murray, Roger Federer or Novak Djokovic – the current defending champion – has won Wimbledon.
And go into 2019's edition – it is Djokovic, Federer and Nadal heading the betting and are firm favourites to take the title.
Djokovic admits he finds it hard to see who can win other than himself and Federer and Nadal.
"Federer and Nadal are always among the top candidates of course and the three of us should be the favourites to win the title. It will be a tough tournament and I will have to take it one step at a time, match by match," said the Serbian star.
"I always have the highest ambitions and this year is no different. I am top of the rankings and defending my Wimbledon title, hence I am hoping to go all the way again,"
As for Nadal and Federer, pre-tournament talk has been of the decision to rank world number two Nadal at three, behind Federer.
"Wimbledon is the only tournament of the year that doesn't follow the ranking," Nadal said.
"It's their choice. Either way, being second or third seed, I have to play at the best level to aspire to the things I aspire to. It is better to be second than third, but if they consider that I have to be third I will accept.
"I don't think it's a good thing that Wimbledon is the only one with its own seeding formula."
Federer is not taking too much notice of the seeding, and has warmed up in his usual style by winning the Dutch grass tournament at Halle – the tenth time he has done it.
"To win 10 times in one place is a very special moment in my career," Federer said. "Every time I've won in Halle, I went on to play really well at Wimbledon.
"It's never a guarantee of course, but I've been on the tour for long enough to know what it means."
The Wimbledon seeds. Ash Barty No. 1 in the women's draw. Federer bumped above Rafa to be No. 2 seed behind Novak. (Wimbledon doesn't follow the rankings.) @GrogsGamut @AttardMon @Kimbo_Ramplin pic.twitter.com/BMSTaAriGu

— Neil McMahon (@NeilMcMahon) June 25, 2019
On the Women's side – and the focus is not on defending champion Angelique Kerber. The two dominating the headlines are French Open winner Ashleigh Barty and the legend that is Serena Williams.
Australian star Barty was hugely impressive in Paris claiming her first Grand Slam, and she arrives in London as the firm favourite with the Bookmakers.
And Barty has special reason to eye success at Wimbeldon as she looks to emulate her mentor Evonne Goolagong Cawley – who was the last Australian woman to win the title in 1980.
"Evonne has been an incredible champion of our sport, she is the most genuine human being you'll ever meet and even to be mentioned in the same conversation with her is a little bit mind-boggling to me," said Barty.
"She has been an inspiration of mine, a mentor of mine, and a friend of mine, and anything that even goes close to what she achieved in her career would be unbelievable."
Williams arrives at Wimbledon looking for her eighth title in SW19 – which would put her level with Margaret Court on 24 Grand Slam titles, and make her equally the most successful Tennis player of all time.
At 37 should would also become the oldest ever Grand Slam winner, beating the record of Ken Rosewall by just months – as he was also 37 when winning the Australian Open in 1972 – although Roger Federer would surpass Serena by just over a month – where he to win.
As for Kerber, she is looking forward to her defence.
"Everything starts from zero and everyone would like to beat me," Kerber said.
"It is a pressure but I learned from the other two times I was defending slams that I must just focus on the next opponent, the next step, the next practice, same as when I won the slams. Keep it simple."
We spoke to William Hill's Rupert Adams to get the Bookmakers point of view ahead of the tournament
Despite their extraordinary records at Wimbledon punters have shunned both Roger Federer (10/3) & Rafa Nadal (11/2) for this year's tournament.
In fact it has been one-way traffic for Novak Djokovic, who has attracted a massive 60% of the total wagers. Each-way customers have been coming in for Stefanos Tsitsipas who many think remains good value at 14/1.
The ladies draw looks extremely open with Ashleigh Barty the 7/2 favourite, but it is Naomi Osaka who is the worst result for the bookmakers and is currently offered at 10/1.
British hopes will be resting on Johanna Konta (16/1) who to date has been completely friendless.