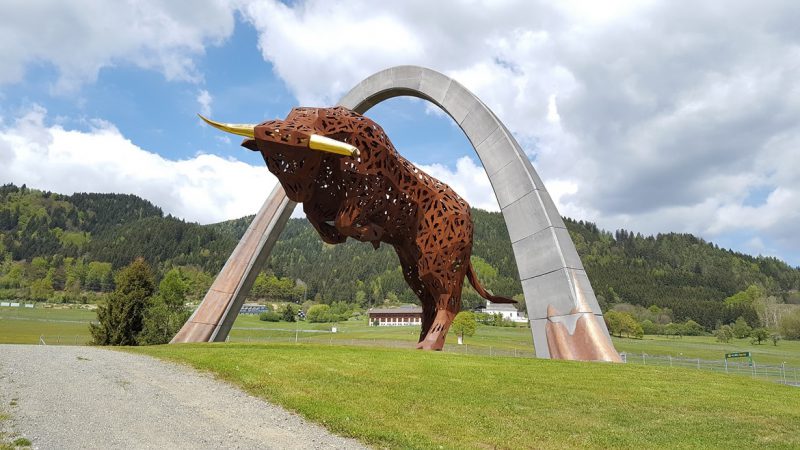 Max Verstappen arrives at the Red Bull Ring in Austria looking to defend the race he won in 2018.
12-months ago, Verstappen and Red Bull needed a double Mercedes retirement to help them claim the victory.
"We will need a lot of luck," he said.
"We're not too far off. We'll have to keep pushing to get more out of our car and the engine. We're falling short on both fronts.
"Of course, my goal isn't to finish fourth; I want to win races. In that respect, fourth isn't great, bit that's where we are at. I'll try to make the most out of it."
Mercedes come into the weekend looking to defend their unbeaten start to the season – with world champion Lewis Hamilton 36 points clear of team-mate Valterri Bottas.
Despite their dominance – Hamilton insists that they do not come into race without worries.
"You saw we had two failures in one race, so it's a hard race for everyone," Hamilton said ahead of the weekend race in Austria.
"We don't go there with all the confidence in the world, we know that we might have a difficult weekend."
As for Ferrari, they continue to try and make up the ground on Mercedes, and Sebastian Vettel – who has not won a race since Belgium last year.
"I'm confident we have what it takes," said Vettel.
"We haven't proved it yet and hopefully we will be able to turn it around sooner rather than later, not only for us, but also for you," said the four-time world champion.
"We are flat out. We are trying to improve the car."
AUSTRIA GRAND PRIX – ROUND 9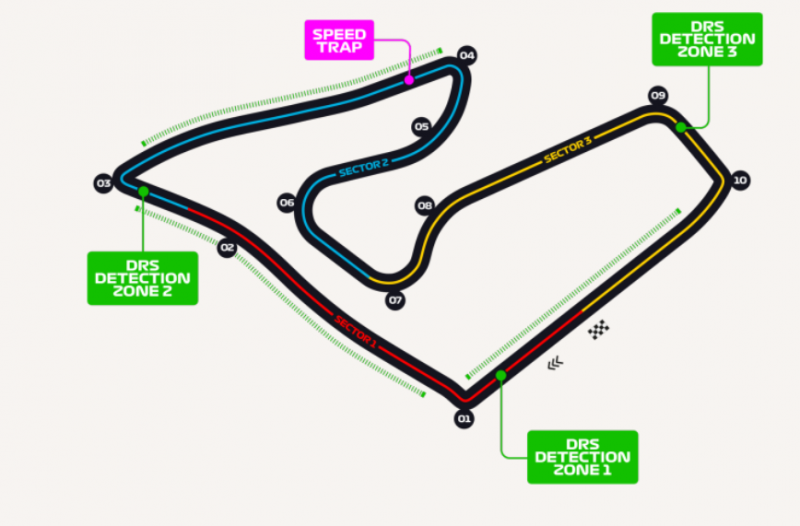 Location: Red Bull Ring
Track size: 2.68 miles with 10 turns
Number of laps: 71
2018 winner: Max Verstappen – Red Bull
Lap record holder: 1:06.957 Kimi Raikkonen (2018)
Race winner driver odds from Unibet: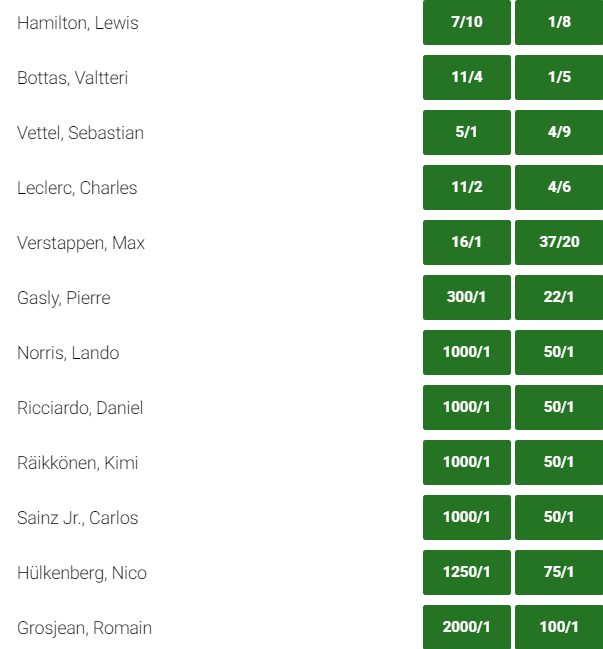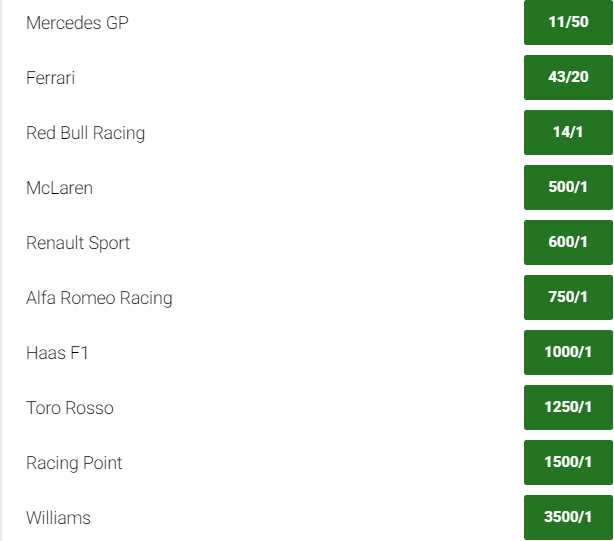 2019 Results
Australian Grand Prix – Valterri Bottas (Mercedes)
Bahrain Grand Prix – Lewis Hamilton (Mercedes)
China Grand Prix – Lewis Hamilton (Mercedes)
Azerbaijan Grand Prix – Valterri Bottas (Mercedes)
Spain Grand Prix – Lewis Hamilton (Mercedes)
Monaco Grand Prix – Lewis Hamilton (Mercedes)
Canada Grand Prix – Lewis Hamilton (Mercedes)
France Grand Prix – Lewis Hamilton (Mercedes)
Austria Grand Prix –
British Grand Prix –
German Grand Prix –
Hungary Grand Prix –
Belgium Grand Prix –
Italy Grand Prix –
Singapore Grand Prix –
Russia Grand Prix –
Japan Grand Prix –
Mexico Grand Prix –  
USA Grand Prix – 
Brazil Grand Prix – 
Abu Dhabu Grand Prix –
2019 Driver Standings
1 Lewis Hamilton GBR MERCEDES 187
2 Valtteri Bottas FIN MERCEDES 151
3 Sebastian Vettel GER FERRARI 111
4 Max Verstappen NED RED BULL RACING HONDA 100
5 Charles Leclerc MON FERRARI 87
6 Pierre Gasly FRA RED BULL RACING HONDA 37
7 Carlos Sainz ESP MCLAREN RENAULT 26
8 Kimi Räikkönen FIN ALFA ROMEO RACING FERRARI 19
9 Daniel Ricciardo AUS RENAULT 16
10 Nico Hulkenberg GER RENAULT 16
11 Kevin Magnussen DEN HAAS FERRARI 14
12 Lando Norris GBR MCLAREN RENAULT 14
13 Sergio Perez MEX RACING POINT BWT MERCEDES 13
14 Daniil Kvyat RUS SCUDERIA TORO ROSSO HONDA 10
15 Alexander Albon THA SCUDERIA TORO ROSSO HONDA 7
16 Lance Stroll CAN RACING POINT BWT MERCEDES 6
17 Romain Grosjean FRA HAAS FERRARI 2
18 Antonio Giovinazzi ITA ALFA ROMEO RACING FERRARI 0
19 George Russell GBR WILLIAMS MERCEDES 0
20 Robert Kubica POL WILLIAMS MERCEDES 0
2019 Team Standings
1 MERCEDES 338
2 FERRARI 198
3 RED BULL RACING HONDA 137
4 MCLAREN RENAULT 40
5 RENAULT 32
6 RACING POINT BWT MERCEDES 19
7 ALFA ROMEO RACING FERRARI 19
8 SCUDERIA TORO ROSSO HONDA 17
9 HAAS FERRARI 16
10 WILLIAMS MERCEDES 0
We also spoke with Alistair Gill of Unibet to get their views on the Grand Prix
As Mercedes go for a record equaling 11 F1 wins in a row in Austria, Hamilton is of course again the odds on favourite.
Even priced at 7/10, as with most of the season it is hard to throw stones at Hamilton being the bet. And even when there is reasons to oppose, so far this season he has usually answered the questions emphatically. The early money also suggests he is by far the most likely winner come Sunday.
Valtteri Bottas is second favourite at 11/4, followed by Sebastian Vettel a 5/1 shot.
Of interest potentially here could be the Red Bulls. At their home track an improvement will be expected and, as last year's winners, they have the form. Max Verstappen can be backed to win at 16/1, but the bet could well be him taking a podium spot, available at 37/20.