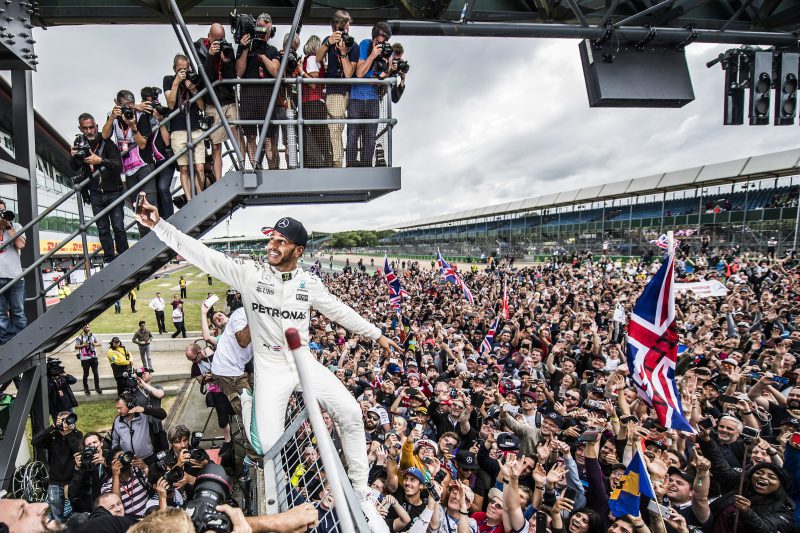 World Championship leaders Lewis Hamilton and Meredes arrive at Silverstone looking to return to winning ways.
Max Verstappen and Red Bull took victory at the Red Bull Ring last time out – which was the first race this season that didn't have a Mercedes winner.
Now arriving at Silverstone, many believe that nothing is going to stop Hamilton from sealing what would be a record sixth British Grand Prix victory.
And Mercedes believe their car won't suffer at Silverstone like it did at the Red Bull Ring last week.
"Austria exposed the biggest vulnerability of our car and it meant we couldn't challenge for the win at any point of the weekend," said Mercedes chief Toto Wolff.
"We will continue to work on this to have a better fighting chance at future races in the heat.
"Fortunately, the English summer is known for more moderate temperatures, so cooling should not be a major issue for us in Silverstone – although we've learned in the past that the weather at the British GP can be highly changeable."
Verstappen and Red Bull arrive on a high, and they feel they could continue to threaten in Britain.
"I'm looking forward to Silverstone, especially after our win in Austria," said the Dutch star.
"It was a really special moment for everyone in the Team and for Honda – all the hard work is beginning to pay off."
The first ever #F1 Grand Prix was held at Silverstone in 1950 🏁

We're back here this weekend for the #BritishGP 🇬🇧 as we take on some of the most iconic corners in motorsport at @SilverstoneUK!

See you 👋

Cover Art by Gianmarco Veronesi 🎨#essereFerrari 🔴 #SF90 pic.twitter.com/JVQiqaVr4T

— Scuderia Ferrari (@ScuderiaFerrari) July 10, 2019
Ferrari arrive at Silverstone without a win this season, and they have played down their chances of recording their first win this weekend.
"Silverstone is one of the toughest tracks of the season, providing a real test of a car's set-up and balance," confirmed Ferrari chief Mattia Binotto.
"Tyres also come under a lot of strain here and the amount they wear plays a key role in how your race pans out.
"We do not expect Silverstone to suit our car particularly well, but at every race, we have seen that the balance of power can change, often unexpectedly."
BRITISH GRAND PRIX – ROUND 10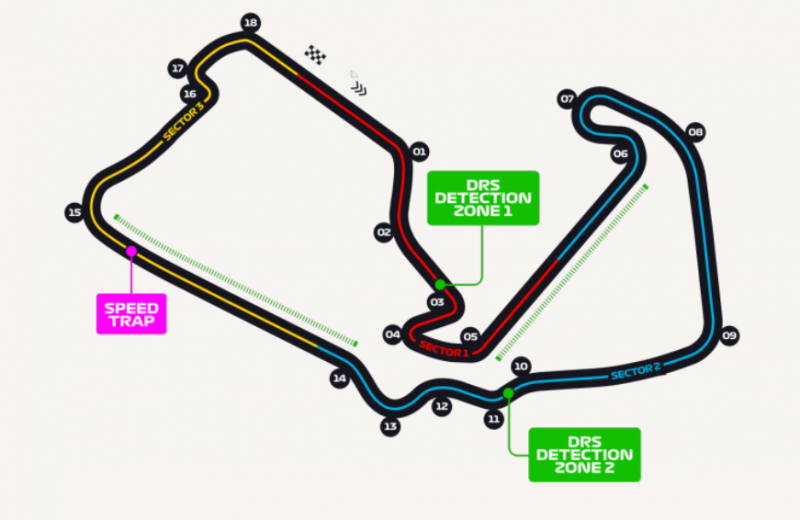 Location: Silverstone
Track size: 3.66 miles with 18 turns
Number of laps: 52
2018 winner: Sebastian Vettel – Ferrari
Lap record holder: 1:30.621 Lewis Hamilton (2017)
Race winner driver odds from Unibet: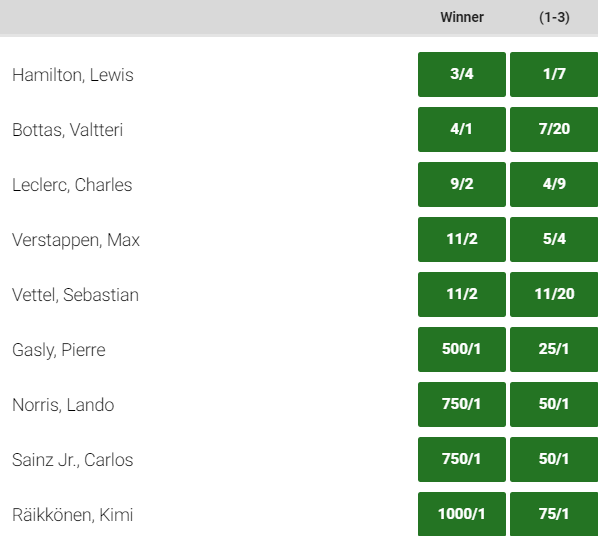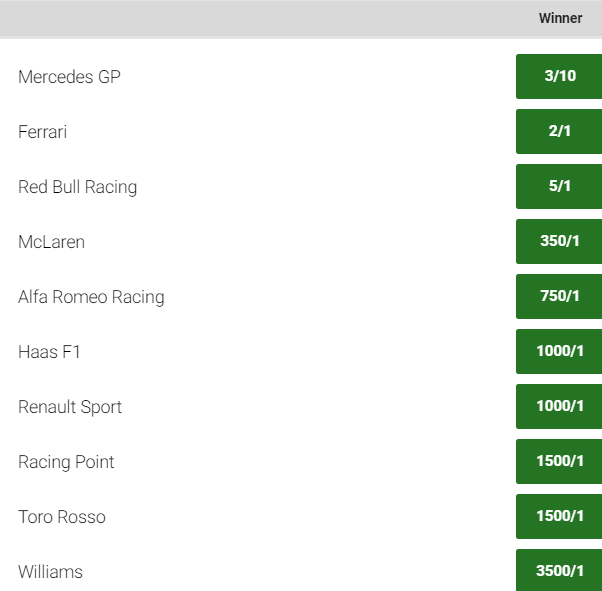 2019 Results
Australian Grand Prix – Valterri Bottas (Mercedes)
Bahrain Grand Prix – Lewis Hamilton (Mercedes)
China Grand Prix – Lewis Hamilton (Mercedes)
Azerbaijan Grand Prix – Valterri Bottas (Mercedes)
Spain Grand Prix – Lewis Hamilton (Mercedes)
Monaco Grand Prix – Lewis Hamilton (Mercedes)
Canada Grand Prix – Lewis Hamilton (Mercedes)
France Grand Prix – Lewis Hamilton (Mercedes)
Austria Grand Prix – Max Verstappen (Red Bull)
British Grand Prix –
German Grand Prix –
Hungary Grand Prix –
Belgium Grand Prix –
Italy Grand Prix –
Singapore Grand Prix –
Russia Grand Prix –
Japan Grand Prix –
Mexico Grand Prix –  
USA Grand Prix – 
Brazil Grand Prix – 
Abu Dhabu Grand Prix –
2019 Driver Standings
1 Lewis Hamilton GBR MERCEDES 197
2 Valtteri Bottas FIN MERCEDES 166
3 Max Verstappen NED RED BULL RACING HONDA 126
4 Sebastian Vettel GER FERRARI 123
5 Charles Leclerc MON FERRARI 105
6 Pierre Gasly FRA RED BULL RACING HONDA 43
7 Carlos Sainz ESP MCLAREN RENAULT 30
8 Lando Norris GBR MCLAREN RENAULT 22
9 Kimi Räikkönen FIN ALFA ROMEO RACING FERRARI 21
10 Daniel Ricciardo AUS RENAULT 16
11 Nico Hulkenberg GER RENAULT 16
12 Kevin Magnussen DEN HAAS FERRARI 14
13 Sergio Perez MEX RACING POINT BWT MERCEDES 13
14 Daniil Kvyat RUS SCUDERIA TORO ROSSO HONDA 10
15 Alexander Albon THA SCUDERIA TORO ROSSO HONDA 7
16 Lance Stroll CAN RACING POINT BWT MERCEDES 6
17 Romain Grosjean FRA HAAS FERRARI 2
18 Antonio Giovinazzi ITA ALFA ROMEO RACING FERRARI 1
19 George Russell GBR WILLIAMS MERCEDES 0
20 Robert Kubica POL WILLIAMS MERCEDES 0
2019 Team Standings
1 MERCEDES 363
2 FERRARI 228
3 RED BULL RACING HONDA 169
4 MCLAREN RENAULT 52
5 RENAULT 32
6 ALFA ROMEO RACING FERRARI 22
7 RACING POINT BWT MERCEDES 19
8 SCUDERIA TORO ROSSO HONDA 17
9 HAAS FERRARI 16
10 WILLIAMS MERCEDES 0
We also spoke with Alistair Gill of Unibet to get their views on the Grand Prix
Lewis Hamilton is the 3/4 favourite for his home GP at a track he has a fine record at, winning 4 in a row before last year's renewal.
After missing out on the podium for the first time this season last time out in Austria, the perennial winner will be even more motivated, if that's possible at SIlverstone, to get back on top.
Valtteri Bottas is second favourite at 4/1, followed by Charles Leclerc, surely knocking on the door for his first win in F1, at 9/2.
The value bet of this race though could well be Max Verstappen to finish on the podium at 5/4. A winner 2 weeks ago in Austria, he will be hoping that can kick on his season and he'll aim to take that momentum into the British GP