Mercedes arrive for their home Grand Prix in Germany sitting pretty at the top of of both the constructors' and driving Championships.
Having won all but one of the opening ten GPs so far this season, some believe the season is all but over with nobody looking capable of stopping Mercedes and Lewis Hamilton from defending their titles.
Despite their dominance, Hamilton maintains that he and his team still have room for improvement.
"Every year you get a bit more comfortable within yourself and within the methods you use and the processes you go through, but qualifying's not been spectacular this year, still not perfect. There's still work to be done but the races have generally been relatively strong," said Hamilton.
"My trust in the car is incredibly high. I know what the car is able to do and so I guess the experience of last year has made me a bit more confident to push it more and, being that it is so close, I need to try and eke a bit more out of the car."
#GermanGP 🇩🇪: home race for #Seb5. Wir sind bereit 💪🏼! https://t.co/4mEN6hUVJK#SF90 #essereFerrari 🔴 pic.twitter.com/mOCiAQ2O66

— Scuderia Ferrari (@ScuderiaFerrari) July 23, 2019
Sebastian Vettel and Ferrari arrive without a win, and the German star is desperate to open his account for the season on home soill.
And Ferrari boss Mattia Binotto is desperate to produce for his number one driver.
"For us, the German Grand Prix is first and foremost Sebastian's home race," he said.
"Therefore we really hope to do well at Hockenheim, especially after last year's race here, when the win escaped us at the end of a weekend where our performance was definitely up to the task."
GERMAN GRAND PRIX – ROUND 11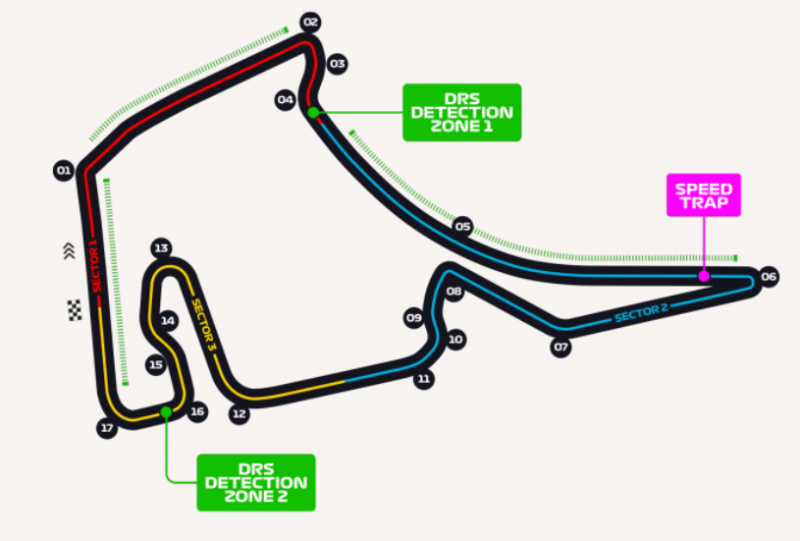 Location: Hockenheim
Track size: 2.8 miles with 17 turns
Number of laps: 67
2018 winner: Lewis Hamilton – Mercedes
Lap record holder: 1:13.780 Kimi Raikkonen (2004)
Race winner driver odds from Unibet: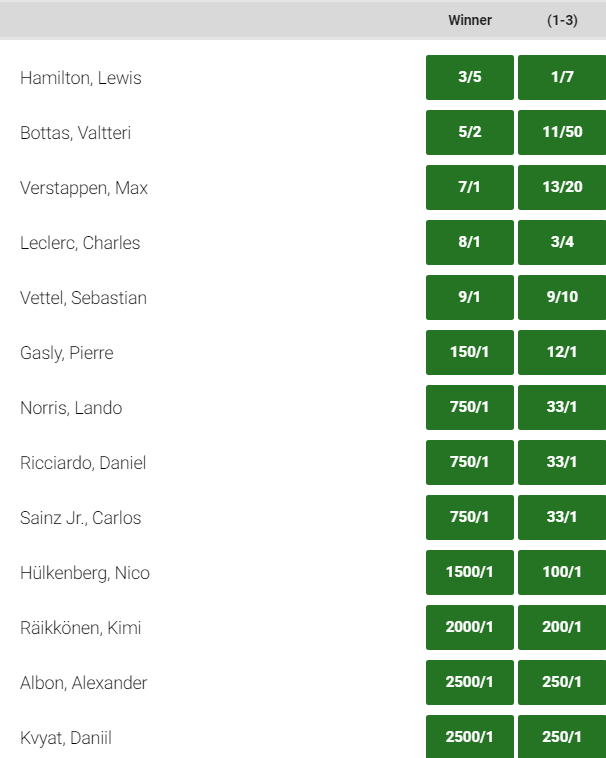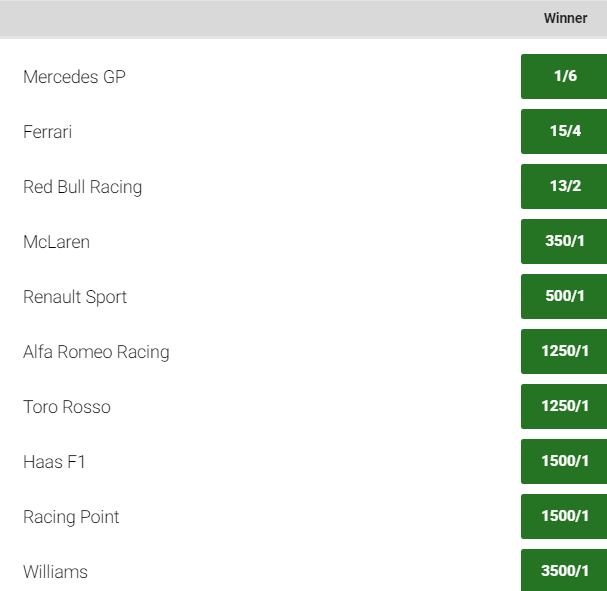 2019 Results
Australian Grand Prix – Valterri Bottas (Mercedes)
Bahrain Grand Prix – Lewis Hamilton (Mercedes)
China Grand Prix – Lewis Hamilton (Mercedes)
Azerbaijan Grand Prix – Valterri Bottas (Mercedes)
Spain Grand Prix – Lewis Hamilton (Mercedes)
Monaco Grand Prix – Lewis Hamilton (Mercedes)
Canada Grand Prix – Lewis Hamilton (Mercedes)
France Grand Prix – Lewis Hamilton (Mercedes)
Austria Grand Prix – Max Verstappen (Red Bull)
British Grand Prix – Lewis Hamilton (Mercedes)
German Grand Prix –
Hungary Grand Prix –
Belgium Grand Prix –
Italy Grand Prix –
Singapore Grand Prix –
Russia Grand Prix –
Japan Grand Prix –
Mexico Grand Prix –  
USA Grand Prix – 
Brazil Grand Prix – 
Abu Dhabu Grand Prix –
2019 Driver Standings
1 Lewis Hamilton GBR MERCEDES 223
2 Valtteri Bottas FIN MERCEDES 184
3 Max Verstappen NED RED BULL RACING HONDA 136
4 Sebastian Vettel GER FERRARI 123
5 Charles Leclerc MON FERRARI 120
6 Pierre Gasly FRA RED BULL RACING HONDA 55
7 Carlos Sainz ESP MCLAREN RENAULT 38
8 Kimi Räikkönen FIN ALFA ROMEO RACING FERRARI 25
9 Lando Norris GBR MCLAREN RENAULT 22
10 Daniel Ricciardo AUS RENAULT 22
11 Nico Hulkenberg GER RENAULT 17
12 Kevin Magnussen DEN HAAS FERRARI 14
13 Sergio Perez MEX RACING POINT BWT MERCEDES 13
14 Daniil Kvyat RUS SCUDERIA TORO ROSSO HONDA 12
15 Alexander Albon THA SCUDERIA TORO ROSSO HONDA 7
16 Lance Stroll CAN RACING POINT BWT MERCEDES 6
17 Romain Grosjean FRA HAAS FERRARI 2
18 Antonio Giovinazzi ITA ALFA ROMEO RACING FERRARI 1
19 George Russell GBR WILLIAMS MERCEDES 0
20 Robert Kubica POL WILLIAMS MERCEDES 0
2019 Team Standings
1 MERCEDES 407
2 FERRARI 243
3 RED BULL RACING HONDA 191
4 MCLAREN RENAULT 60
5 RENAULT 39
6 ALFA ROMEO RACING FERRARI 26
7 RACING POINT BWT MERCEDES 19
8 SCUDERIA TORO ROSSO HONDA 19
9 HAAS FERRARI 16
10 WILLIAMS MERCEDES 0
We also spoke with Alistair Gill of Unibet to get their views on the Grand Prix
Perennial favourite Lewis Hamilton once again sits on top of the pile before the race as a 3/5 favourite.
Having won here the last two times it's been held and Mercedes having won the last 3 outtings, as is becoming the trend this season it's very hard to throw stones at his chances.
Sebastian Vettel crashed out in the rain here last year and has struggled for form since. No doubt he would love to get a much needed win at his home GP but, but he is far from a likely winner and can be backed here at 9/1.
Charles Lecerc has so far acquitted him self remarkably well in his debut season with Ferrari, without getting him self on top of the podium yet. He is 8/1 to do so here, and can also be backed at 3/4 to add to his collection of 5 podiums this year.