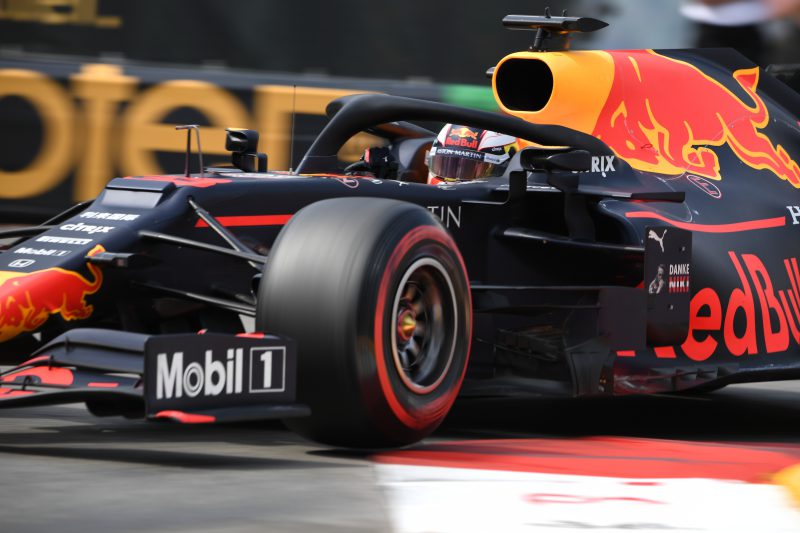 The Formula 1 season is now at the halfway point on the Hungarian Grand Prix will mark the mid-season break.
Mercedes and Lewis Hamilton continue to dominate points wise, but they were left licking their wounds after an embarrassing display on home soil in Hockenheim as they picked up just two points through Lewis Hamilton and that was after other were handed penalties.
It came as Mercedes-Benz were celebrating their 125th year in motorsport and it was their 200th start in Formula 1.
But Hamilton is confident they will be bouncing back in Budapest.
"There's a lot of elements that we can improve on," said Hamilton. "What's really important is that we win and we lose as a team. If I was to be critical, I'd feel like I was like the catalyst that started it all, but there are so many other elements that are a part of it.
"We know how the weekend went and we do know just how fragile we can be – so strong, yet there are areas that show weaknesses that we can work on collectively. So I'm not going to pinpoint what those are but I do anticipate us to be stronger and things like those experiences should creep up on us less often."
Next stop the Hungaroring! 🇭🇺 Full speed ahead for the #HungarianGP 💪 #F1 pic.twitter.com/gbzArmP3ky

— Aston Martin Red Bull Racing (@redbullracing) August 1, 2019
Dutch star Max Verstappen is in great form after his win in Germany, meaning he has two wins from the last three races, and many believe they can continue that in Hungary.
"It's not guaranteed, because you still need to find a good set-up as well on the car. But we'll definitely give it a try," said Verstappen.
Sebastian Vettel has won two of the last four races in Hungary – but amazingly Ferrari are still without a win in 2019.
"I think we should be okay but maybe we don't come here as favourites with the track characteristics being a bit different. We maybe had the same thoughts on other places and turned out to do quite well," he said.
"We need to get our stuff together, we have some new bits and hopefully that will put us some performance and a good direction for the next races in the second half of the season."
HUNGARIAN GRAND PRIX – ROUND 12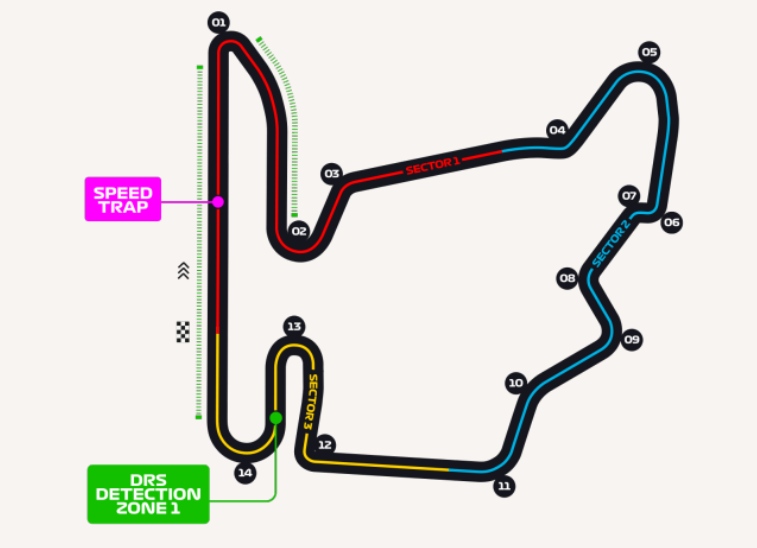 Location: Hungaroring
Track size: 2.7 miles with 14 turns
Number of laps: 17
2018 winner: Lewis Hamilton – Mercedes
Lap record holder: 1:19.071 Michael Schumacher (2004)
Race winner driver odds from Unibet: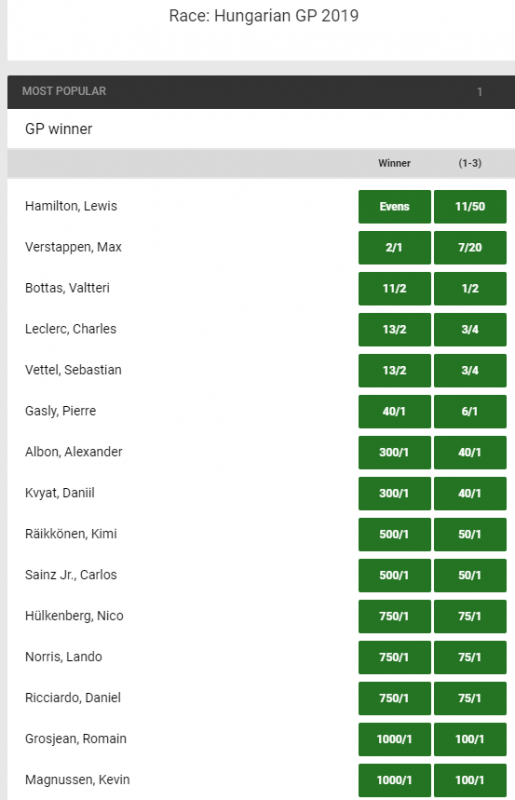 2019 Results
Australian Grand Prix – Valterri Bottas (Mercedes)
Bahrain Grand Prix – Lewis Hamilton (Mercedes)
China Grand Prix – Lewis Hamilton (Mercedes)
Azerbaijan Grand Prix – Valterri Bottas (Mercedes)
Spain Grand Prix – Lewis Hamilton (Mercedes)
Monaco Grand Prix – Lewis Hamilton (Mercedes)
Canada Grand Prix – Lewis Hamilton (Mercedes)
France Grand Prix – Lewis Hamilton (Mercedes)
Austria Grand Prix – Max Verstappen (Red Bull)
British Grand Prix – Lewis Hamilton (Mercedes)
German Grand Prix – Max Verstappen (Red Bull)
Hungary Grand Prix –
Belgium Grand Prix –
Italy Grand Prix –
Singapore Grand Prix –
Russia Grand Prix –
Japan Grand Prix –
Mexico Grand Prix –  
USA Grand Prix – 
Brazil Grand Prix – 
Abu Dhabu Grand Prix –
2019 Driver Standings
1 Lewis Hamilton GBR MERCEDES 225
2 Valtteri Bottas FIN MERCEDES 184
3 Max Verstappen NED RED BULL RACING HONDA 162
4 Sebastian Vettel GER FERRARI 141
5 Charles Leclerc MON FERRARI 120
6 Pierre Gasly FRA RED BULL RACING HONDA 55
7 Carlos Sainz ESP MCLAREN RENAULT 48
8 Daniil Kvyat RUS SCUDERIA TORO ROSSO HONDA 27
9 Kimi Räikkönen FIN ALFA ROMEO RACING FERRARI 25
10 Lando Norris GBR MCLAREN RENAULT 22
11 Daniel Ricciardo AUS RENAULT 22
12 Lance Stroll CAN RACING POINT BWT MERCEDES 18
13 Kevin Magnussen DEN HAAS FERRARI 18
14 Nico Hulkenberg GER RENAULT 17
15 Alexander Albon THA SCUDERIA TORO ROSSO HONDA 15
16 Sergio Perez MEX RACING POINT BWT MERCEDES 13
17 Romain Grosjean FRA HAAS FERRARI 8
18 Antonio Giovinazzi ITA ALFA ROMEO RACING FERRARI 1
19 Robert Kubica POL WILLIAMS MERCEDES 1
20 George Russell GBR WILLIAMS MERCEDES 0
2019 Team Standings
1 MERCEDES 409
2 FERRARI 261
3 RED BULL RACING HONDA 217
4 MCLAREN RENAULT 70
5 SCUDERIA TORO ROSSO HONDA 42
6 RENAULT 39
7 RACING POINT BWT MERCEDES 31
8 HAAS FERRARI 26
9 ALFA ROMEO RACING FERRARI 26
10 WILLIAMS MERCEDES 1
We also spoke with Alistair Gill of Unibet to get their views on the Grand Prix
After last week's crazy race in tough conditions at Hockenheim, Lewis Hamilton can be backed at Evens for the Hungarian GP after missing out on the podium for just the second time all season in Germany, and it would take a brave man to bet against the champion coming back even stronger after adversity. He is a 6 time winner in Hungary, including 2 of the last 3 and he will no doubt be expecting to take his record one better come Sunday.
Max Verstappen has now won 2 of the last 3 races and is available at 2/1 this time out. Although clearly in fine form, for me that price looks a bit too short considering what will be knocking on the door around him.
Next up is Bottas priced at 11/2, followed by the 2 Ferrari's of Vettel and Leclerc both priced at 13/2. Sebastian Vettel is having an incredibly tough season to date and it's easy (and perhaps sensible) to say he's had too many chances and blown them to be backing him here. But he also has a good record in Hungary with 2 wins in the last 4 years, and there's an argument to say surely he gets a win at some point this season! 13/2 might not be a bad price should Hamilton fluff his lines again, and 3/4 to make it to the podium might not be the worst bet either.