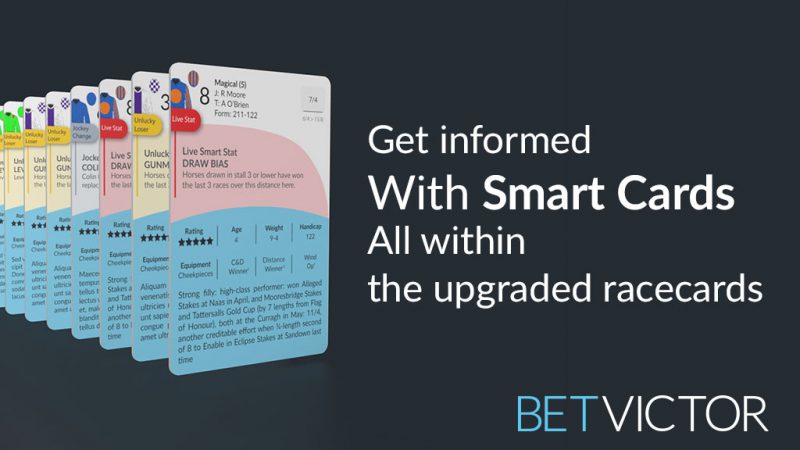 BetVictor, a leading online gambling company, has announced the launch of its Smart Cards product, giving customers access to a continuous stream of live racing updates in real-time to help them make better and informed betting decisions.
Developed in collaboration with data partners, Timeform, Smart Cards improve the traditional racecard experience by updating the typically static information provided 24 hours before each day of racing.
The cards provide a constant stream of informational updates, tips and race day trends, such as eye-catching trainer/jockey partnerships, draw bias trends as they unfold and many more unique insights.
Available on mobile across all UK and Irish racing meetings, the service – which is integrated into BetVictor's standard racecard product – enables horse racing punters to place their bets using the most up to date and relevant information available.
Eoin Ryan, Director of Product at BetVictor, said: "Today, across almost every sport that punters bet on, the use of statistical information to produce real-time insights is increasingly important, however, over the past few years horse racing products have remained relatively static.
"By integrating the latest Timeform services in our horse racing offering, the new Smart Cards product really raises the bar, enabling us to provide our customers with a best-in-class racing experience."
Gillian O'Rourke, Business Development Manager at Timeform, said: "The Smart Cards product is set to be a huge success and we're very pleased to be collaborating with BetVictor on this project.
"BetVictor has a strong heritage in horse racing and their passion for the sport is reflective in their commitment to horse racing and in providing customers with a premium experience."
The product launch forms part of BetVictor's new creative campaign entitled 'See The Bigger Picture' and follows the recent signing of BetVictor brand ambassadors Rachael Blackmore, Nicola Currie and Jamie Snowden, as the operator looks to become the first choice in the industry for horse racing.