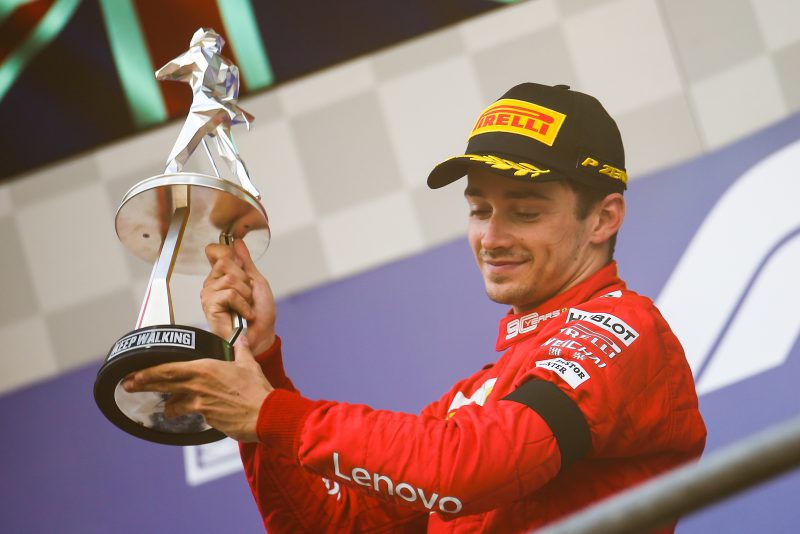 Ferrari head to their home Grand Prix in Monza with huge confidence after they claimed their opening win of the season in Belgium.
Charles Leclerc sealed his first ever win in Formula 1 with victory at Spa, holding off world champion Lewis Hamilton, but with their extra power in tow – Ferrari are hopeful of their first win on home soil since 2010 when Fernando Alonso sealed the win.
"Last year, coming to Monza was probably one of the best experiences of my life," said Leclerc. "The support I had, even though I was not a Ferrari driver, was unbelievable.
"So I can't imagine now. Obviously, I just won my first race in Formula 1, so I'm pretty sure the welcome will be as great as it was last year but probably even more now, firstly driving for Ferrari and especially because I had my first win in Formula 1. So I'm really looking forward to arriving in Italy."
Hamilton came close to beating Leclerc, but he admits Mercedes need to find more top speed in Monza.
It's all straights, so it's going to be a happy weekend for Ferrari, most likely.
"In qualifying [at Spa], we're losing over a second a lap. So, there's not much me and Valtteri [Bottas] can do in that instance, and there's not a lot of corners there to catch that up.
"It'll be interesting. In the next few days, we've got to make some drastic improvements to our straight speed, somehow.
"I don't know if that's possible, but if anyone can do it, it's our team."
ITALIAN GRAND PRIX – ROUND 14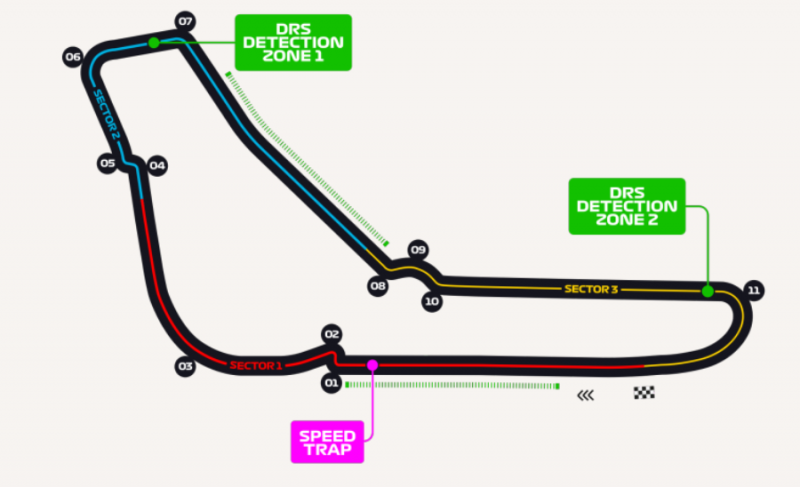 Location: Autodromo Nazionale Monza
Track size: 3.6 miles with 19 turns
Number of laps: 53
2018 winner: Lewis Hamilton – Mercedes
Lap record holder: 1:21.046 Rubens Barrichello (2004)
Race winner driver odds from Unibet: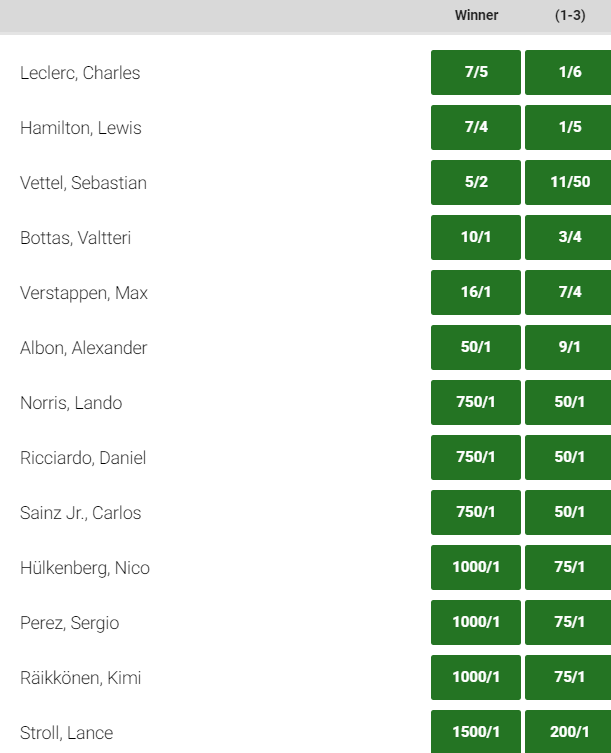 2019 Results
Australian Grand Prix – Valterri Bottas (Mercedes)
Bahrain Grand Prix – Lewis Hamilton (Mercedes)
China Grand Prix – Lewis Hamilton (Mercedes)
Azerbaijan Grand Prix – Valterri Bottas (Mercedes)
Spain Grand Prix – Lewis Hamilton (Mercedes)
Monaco Grand Prix – Lewis Hamilton (Mercedes)
Canada Grand Prix – Lewis Hamilton (Mercedes)
France Grand Prix – Lewis Hamilton (Mercedes)
Austria Grand Prix – Max Verstappen (Red Bull)
British Grand Prix – Lewis Hamilton (Mercedes)
German Grand Prix – Max Verstappen (Red Bull)
Hungary Grand Prix – Lewis Hamilton (Mercedes)
Belgium Grand Prix – Charles Leclerc (Ferrari)
Italy Grand Prix –
Singapore Grand Prix –
Russia Grand Prix –
Japan Grand Prix –
Mexico Grand Prix –  
USA Grand Prix – 
Brazil Grand Prix – 
Abu Dhabu Grand Prix –
2019 Driver Standings
1 Lewis Hamilton GBR MERCEDES 268
2 Valtteri Bottas FIN MERCEDES 203
3 Max Verstappen NED RED BULL RACING HONDA 181
4 Sebastian Vettel GER FERRARI 169
5 Charles Leclerc MON FERRARI 157
6 Pierre Gasly FRA SCUDERIA TORO ROSSO HONDA 65
7 Carlos Sainz ESP MCLAREN RENAULT 58
8 Daniil Kvyat RUS SCUDERIA TORO ROSSO HONDA 33
9 Kimi Räikkönen FIN ALFA ROMEO RACING FERRARI 31
10 Alexander Albon THA RED BULL RACING HONDA 26
11 Lando Norris GBR MCLAREN RENAULT 24
12 Daniel Ricciardo AUS RENAULT 22
13 Sergio Perez MEX RACING POINT BWT MERCEDES 21
14 Nico Hulkenberg GER RENAULT 21
15 Lance Stroll CAN RACING POINT BWT MERCEDES 19
16 Kevin Magnussen DEN HAAS FERRARI 18
17 Romain Grosjean FRA HAAS FERRARI 8
18 Antonio Giovinazzi ITA ALFA ROMEO RACING FERRARI 1
19 Robert Kubica POL WILLIAMS MERCEDES 1
20 George Russell GBR WILLIAMS MERCEDES 0
2019 Team Standings
1 MERCEDES 471
2 FERRARI 326
3 RED BULL RACING HONDA 254
4 MCLAREN RENAULT 82
5 SCUDERIA TORO ROSSO HONDA 51
6 RENAULT 43
7 RACING POINT BWT MERCEDES 40
8 ALFA ROMEO RACING FERRARI 32
9 HAAS FERRARI 26
10 WILLIAMS MERCEDES 1
We also spoke with Alistair Gill of Unibet to get their views on the Grand Prix
Last week's first time winner Charles Leclerc is installed as the favourite at Ferrari's home GP in Monza at 7/5.
Although impressive last week holding off Lewis Hamilton in the late stages, 7/5 may just prove to be short enough.
It is Ferrari's home GP, but they have struggled for the number 1 spot here in recent years with no win since 2010. Mercedes have taken the last 5 runnings, with second favourite Hamilton  accounting for 4 of them.
Nothing revolutionary here, but with a record like that 7/4 might look very generous come the checkered flag. The other Ferrari of Vettel is next at 5/2 and he will certainly be needing something soon to turn his season around, especially now his 'junior' partner is off the mark for the season.