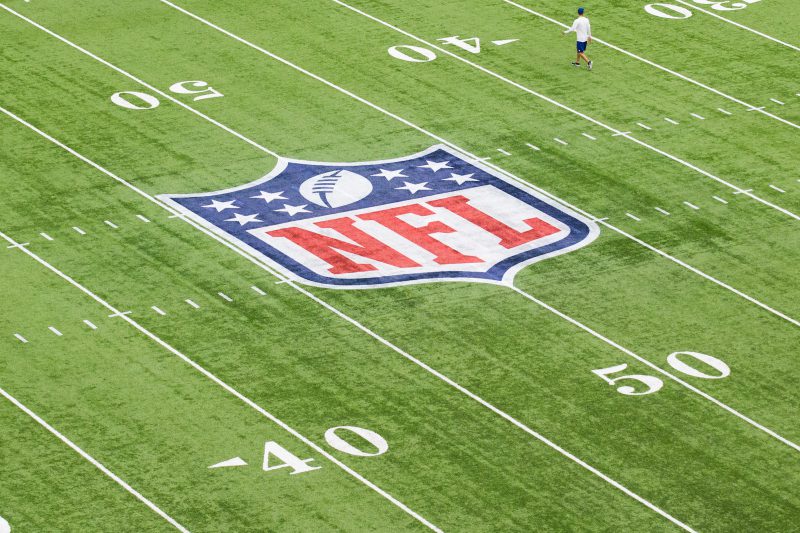 We preview the new NFL season, looking to see who is contention to win Super Bowl LIV, and who isn't…
New England Patriots captured their sixth title, to continue their dominance – having made a remarkable nine Super Bowls this century.
The Boston-based Bill Belichick and Tom Brady led giants are once again favourites for the title, which will be decided in Miami in early 2020.
Our NFL experts – our own Graeme Bailey, Sirius XM's Pete Koury and Coral's John HIll give us their views on the coming season.
Coral will also be providing odds for every team…and here is their verdict on the new campaign…
"New England Patriots top the betting once again to continue their domination in the NFL over the last decade. Although they will be missing some familiar faces this year, punters are happy to side with Belichick and Brady to add to their dynasty," explained Hill.
"One of the biggest movers in the betting ever since they traded for Odell Beckham Jr has been the Cleveland Browns. No longer are they the laughing stocks of the NFL as they are now one of our biggest liabilities going into the new season," added Hill.
We run through each conference…team by team
AFC East
Buffalo Bills
Head Coach: Sean McDermott
Star Man: Tremaine Edmonds
Super Bowl odds from Coral: 80/1
Miami Dolphins
Head Coach: Brian Flores
Star Man: Minkah Fitzpatrick
Super Bowl odds: 125/1
New England Patriots
Head Coach: Bill Belichick
Star Man: Tom Brady
Super Bowl odds: 13/2
New York Jets
Head Coach: Adam Gase
Star Man: Le'Veon Bell
Super Bowl odds: 66/1
Verdict: The Patriots could have some real competition for a long time here, with both The Bills and The Jets considered genuine dark horses for a play-off spot. The Dolphins have already seemingly thrown the towel in, as they look towards next year's draft.
John says: New England Patriots
Pete says: New England Patriots
Graeme says: New England Patriots
AFC North
Baltimore Ravens
Head Coach: John Harbaugh
Star Man: Lamar Jackson
Super Bowl odds: 33/1
Cincinnati Bengals
Head Coach: Zac Taylor
Star Man: AJ Green
Super Bowl odds: 125/1
Cleveland Browns
Head Coach: Freddie Kitchens
Star Man: Odell Beckham Jnr
Super Bowl odds: 14/1
Pittsburgh Steelers
Head Coach: Mike Tomlin
Star Man: Ben Roethlisberger 20/1
Super Bowl odds: 20/1
Verdict: This could easily be one of the most keenly contested divisions in the whole NFL, with the much hyped Browns ready to challenge the dominance of The Steelers and Ravens, but they Dawg Pound look set to see a play-off game for the first time since 2002.
John says: Cleveland Browns
Pete says: Cleveland Browns
Graeme says: Cleveland Browns
AFC South
Houston Texans
Head Coach: Bill O'Brien
Star Man: DeAndre Hopkins
Super Bowl odds: 18/1
Indianapolis Colts
Head Coach: Frank Reich
Star Man: Darius Leonard
Super Bowl odds: 50/1
Jacksonville Jaguars
Head Coach: Doug Marrone
Star Man: Jalen Ramsey
Super Bowl odds: 33/1
Tennessee Titans
Head Coach: Mike Vrabel
Star Man: Derrick Henry
Super Bowl odds: 50/1
Verdict: A wide-open division, and all four will go into the season believing they can top the division. The Texans' late trades makes them favourites, whilst the loss of Andrew Luck means The Colts chances have taken a bit of a dive. If Jacksonville can get their defence back-on-track and with Nick Foles at the helm, they could very well be the team to talk about.
John says: Houston Texans
Pete says: Houston Texans
Graeme says: Jacksonville Jaguars
AFC West
Denver Broncos
Head Coach: Vic Fangio
Star Man: Von Miller
Super Bowl odds: 66/1
Kansas City Chiefs
Head Coach: Andy Reid
Star Man: Patrick Mahomes
Super Bowl odds: 15/2
Los Angeles Chargers
Head Coach: Anthony Lynn
Star Man: Philip Rivers
Super Bowl odds: 11/1
Oakland Raiders
Head Coach: Jon Gruden
Star Man: Antonio Brown
Super Bowl odds: 80/1
Verdict: A stacked division with two genuine Super Bowl contenders in The Chiefs and Chargers, whilst The Broncos don't look a millions miles away. But it will take some beating to stop The Chiefs, and the Charger and Broncos are likely to have to battle for one play-off spot from this division whist The Raiders look forward to their move to Las Vegas in 2020.
John says: Kansas City Chiefs
Pete says: Kansas City Chiefs
Graeme says: Kansas City Chiefs
NFC East
Dallas Cowboys
Head Coach: Jason Garrett
Star Man: Ezekiel Elliott
Super Bowl odds: 22/1
New York Giants
Head Coach: Pat Shurmur
Star Man: Saquon Barkley
Super Bowl odds: 80/1
Philadelphia Eagles
Head Coach: Doug Pederson
Star Man: Carson Wentz
Super Bowl odds: 12/1
Washington Redskins
Head Coach: Jay Gruden
Star Man: Landon Collins
Super Bowl odds: 80/1
Verdict: This very much seems a two-horse race with The Eagles and Cowboys both very much fancying their chances of a run at the Super Bowl, and it is a tough to pick between those two. The Giants and Redskins seem to be a rebuild mould for this season.
John says: Dallas Cowboys
Pete says: Dallas Cowboys
Graeme says: Philadelphia Eagles
NFC North
Chicago Bears
Head Coach: Matt Nagy
Star Man: Khalil Mack
Super Bowl odds: 16/1
Detroit Lions
Head Coach: Matt Patricia
Star Man: Trey Flowers
Super Bowl odds: 80/1
Green Bay Packers
Head Coach: Matt LeFleur
Star Man: Aaron Rodgers
Super Bowl odds: 18/1
Minnesota Vikings
Head Coach: Mike Zimmer
Star Man: Stefon Diggs
Super Bowl odds: 20/1
Verdict: Another very close division although The Lions don't look like they have enough to be challenging. Vikings, Packers and Bears will all be up for top spot and fully expect two teams from here to make the play-offs.
John says: Chicago Bears
Pete says: Minnesota Vikings
Graeme says: Minnesota Vikings
NFC South
Atlanta Falcons
Head Coach: Dan Quinn
Star Man: Julio Jones
Super Bowl odds: 20/1
Carolina Panthers
Head Coach: Ron Rivera
Star Man: Cam Newton
Super Bowl odds: 40/1
New Orleans Saints
Head Coach: Sean Payton
Star Man: Drew Brees
Super Bowl odds: 8/1
Tampa Bay Buccaneers
Head Coach: Bruce Arians
Star Man: Mike Evans
Super Bowl odds: 66/1
Verdict: It is going to take a huge upset for New Orleans not to win – The Saints are going to make it through, it is just a matter of whether The Falcons can earn a play-off spot, whilst The Panthers may fancy their chances if they get a good run going.
John says: New Orleans Saints
Pete says: New Orleans Saints
Graeme says: New Orleans Saints
NFC West
Arizona Cardinals
Head Coach: Kliff Kingsbury
Star Man: Kyle Murray
Super Bowl odds: 100/1
Los Angeles Rams
Head Coach: Sean McVay
Star Man: Todd Gurley
Super Bowl odds: 17/2
San Francisco 49ers
Head Coach: Kyle Shanahan
Star Man: George Kittle
Super Bowl odds: 28/1
Seattle Seahawks
Head Coach: Pete Carroll
Star Man: Russell Wilson
Super Bowl odds: 25/1
Verdict: The Rams will want to be back at the Super Bowl, but they might not have everything their own way in the West – but they should overcome the Seahawks, who will be looking for the play-offs.
John says: Los Angeles Rams
Pete says: Seattle Seahawks
Graeme says: Los Angeles Rams
Super Bowl Picks
John says: New Orleans Saints over Kansas City Chiefs
Pete says: New England Patriots over Chicago Bears
Graeme says: New Orleans Saints over Cleveland Browns