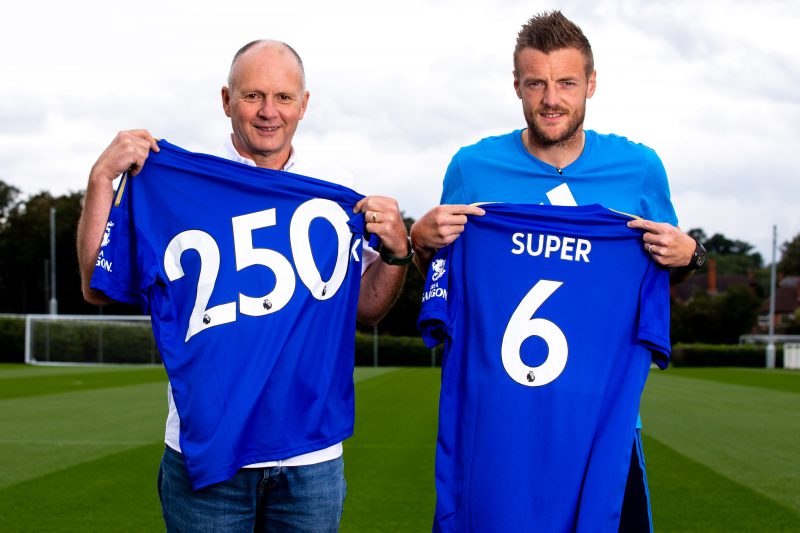 Leicester City fan Ian Leggat had a week to remember, after scooping the £250,000 Super 6 jackpot, celebrating his 57th birthday AND meeting the Leicester legend who scored two of the crucial goals that won him the top prize.
The 57-year-old ambulance service worker from Leicester correctly guessed all six results from Saturday's football action and in turn became the first jackpot winner of the free-to-play predictions game this season.
One of the correct results was his beloved Leicester's 3-1 home win over Bournemouth, and the man who scored the first and final goals of the afternoon – striker Jamie Vardy – took time out to congratulate Ian on his quarter-of-a-million-pound windfall.
Ian, who is a season ticket holder at the King Power Stadium and was there to witness Vardy's double, said: "I did thank Jamie for both of his goals! I didn't really believe that I would be meeting him until I arrived. It's finally starting to sink in now.
"When I found out I was in shock – just total disbelief. I was walking back from the game [when I got the call], it's one of those things you never expect to happen.
"I play in a league with the rest of my family, but you don't expect to win it. You obviously know the jackpot is there and you talk to other people about what you would do if you won it, but you never think it could actually happen.
"I've not even had a chance to think what I can spend the money on."
When they met, Vardy put Ian in a tricky position, by asking which was the better experience, Leicester winning the Premier League title in 2016 or scooping the £250k jackpot?
However, Ian categorically said that winning the league was better – having watched Leicester City since he was 16 years old.
There was late drama and a tiebreaker to overcome to pick up the jackpot as three players correctly predicted all six scores, taking their Super 6 points total to 30, but crucially Ian had selected the 6th minute as his Golden Goal, which was closest to the 2nd minute in which Kevin De Bruyne opened the scoring for Manchester City.
Super 6 returns for an all-EFL round tomorrow (Saturday 7 September) before another £250,000 is guaranteed with the return of Premier League action the week after.