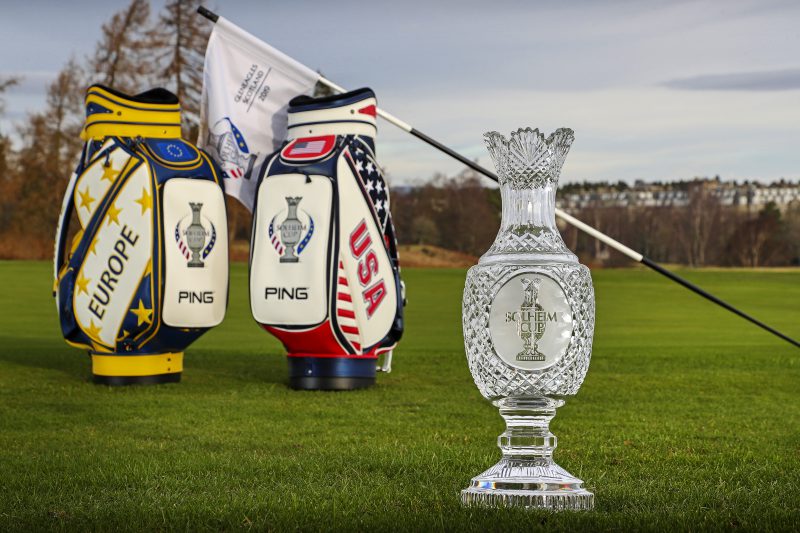 The United States of America are looking to continue their stranglehold on the Solheim Cup this week.
The USA have long been the dominant force in this match, since it's inception in 1990, winning 10 of the 15 clashes.
America are now hopeful of winning a third successive match, which they have done twice before – but USA captain Juli Inkster is looking to become the first woman to skipper for three wins.
Indeed Inkster would become on the second person in Ryder Cup and Solheim Cup history to captain their side to three-in-a-row, with the only other person to do it being Tony Jacklin back in 1989.
| | | |
| --- | --- | --- |
| Solheim Cup | Venue | Winner |
| 2019 | Gleneagles, Scotland | |
| 2017 | Des Moines Golf and Country Club, Iowa, USA | United States |
| 2015 | Golf Club St. Leon-Rot, Germany | United States |
| 2013 | Colorado Golf Club, Colorado, USA | Europe |
| 2011 | Killeen Castle Golf Resort, Ireland | Europe |
| 2009 | Rich Harvest Farms, Illinois, USA | United States |
| 2007 | Halmstad GK, Sweden | United States |
| 2005 | Crooked Stick Golf Club, Indiana, USA | United States |
| 2003 | Barsebäck Golf & Country Club, Sweden | Europe |
| 2002 | Interlachen Country Club, Minnesota, USA | United States |
| 2000 | Loch Lomond Golf Club, Scotland | Europe |
| 1998 | Muirfield Village, Ohio, USA | United States |
| 1996 | St Pierre Golf & Country Club, Wales | United States |
| 1994 | The Greenbrier, West Virginia, USA | United States |
| 1992 | Dalmahoy Country Club, Scotland | Europe |
| 1990 | Lake Nona Golf & Country Club, Florida, USA | United States |
Inkster has picked six rookies in her squad of 12, but she is not overly concerned.
"I think if you're a rookie, I think it's a lot easier to play away your first Solheim, because you're really not expected to win and you can go out there and play a little looser," she said.
"It's easier to bond over here; you don't have a lot of outside distractions.
"It's a crapshoot. They could play great or they could not play great. But I'm going to send a couple rookies out there together, they've got to grow up sometime.
"Everybody's a rookie once, and I just happen to have six of them. They all qualified, they all deserve to be here, so we're just going to throw them out there."
ICYMI: Your @2019solheimcup #TeamEurope is 🔥@Beany25🏴󠁧󠁢󠁳󠁣󠁴󠁿@carlotagolf🇪🇸 @Annevandam🇳🇱
Caroline Hedwall 🇸🇪 @HullCharley🏴󠁧󠁢󠁥󠁮󠁧󠁿 @georgiahall96🏴󠁧󠁢󠁥󠁮󠁧󠁿 @AzaharaGOLF🇪🇸 @CaroMasson🇩🇪 @ANordqvist🇸🇪 @suzannpettersen🇳🇴@Jodi_Ewart🏴󠁧󠁢󠁥󠁮󠁧󠁿@brontemaylaw🏴󠁧󠁢󠁥󠁮󠁧󠁿@celineboutier🇫🇷#ItAllLeadsToThisMoment pic.twitter.com/yK3F34ydH4

— Solheim Cup Team Europe (@SolheimCupEuro) September 10, 2019
USA arrive at Gleneagles as the firm favourites, but European captain Catriona Matthew is confident and she is anxious to be able to win on home soil in her native Scotland.
For Matthew, a veteran of nine Solheim Cup campaigns as a player, the chance to lead Europe to victory in her home country would be the crowning glory of a career jam-packed with prizes and plaudits.
"Some of my best moments have been in the Solheim Cup and it's the highlight of my career every two years when it comes round," she said.
"I think to be a winning captain at Gleneagles and in Scotland would rank just above my Women's British Open win."