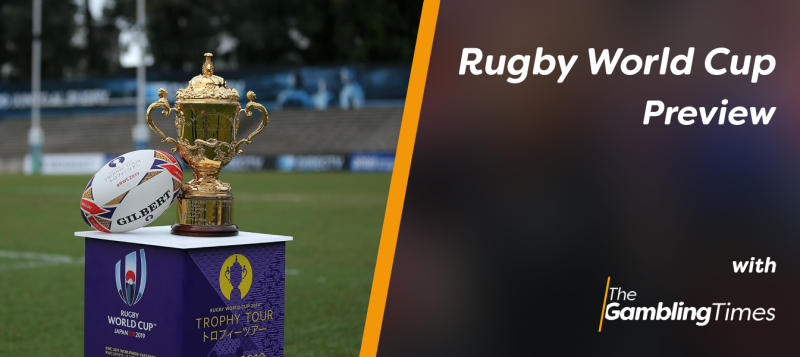 As autumn settles across the United Kingdom, the eyes of the rugby fraternity turn on Japan as the Rugby World Cup 2019 kicks off on Friday, with defending champions seeking a hat-trick of global successes, but they are not unrivalled.
Since their 2011 and 2015 global showpiece triumphs, much has changed. Britain was still firmly within the European Union back then, dabbing was only seen in bingo halls and Ed Sheeran was only just making his way with a second album.
International rugby too is very different. South Africa and Ireland both arrive in Tokyo with momentum on their side, two nations who have defeated the infamous All Blacks, bringing to the present day with rugby's most prestigious and revered jersey not seeming so daunting.
"But what of England", I hear you cry. Well, Eddie Jones – the man who guided Japan to a famous trio of victories in the previous Rugby World Cup in England – has a squad which on paper could rival any team, but maturity, consistency and a ruthless clinical edge will prove defining factors for the 2003 champions.
When it comes to pre-tournament favourites, New Zealand are an obvious choice as they seek a third straight Rugby World Cup, but bookmakers will also see a lot of love for the Springboks, and Ireland should not be overlooked as an outside claim to the title.
We spoke with Coral's Harry Aitkenhead to get their opinion on the tournament.
"New Zealand and England have been the sides backed the most however in the last week or so South Africa have proven to be very popular and their odds are now into 4/1. They seem to be the team with the momentum and they are peaking at the right time which has seen many Coral customers decide to side with them at the last moment.
"This World Cup is tough to call with a genuine chance given to 5 or 6 nations. Ireland, Wales and New Zealand fighting for world number 1, England coming into form at the right time and you can never write off Australia with the quality they possess. However, I have gone for South Africa. Their Rugby Championship triumph will have given them huge confidence and with a huge opening match against the All Blacks where a win could set them up for a big tournament.
"My best bet would be Sevu Reece to be Top Tournament Tryscorer. With a particularly easy group in Italy, Canada and Namibia (baring South Africa) there will be plenty of scoring chances available. Strong performances in his last two matches and New Zealand expected to go deep into the tournament game time should be plentiful and looks the value."
See below for a full preview on each pool with Ben Hampshire…
Pool A
The hosts Japan find themselves in Pool A, alongside Ireland, Scotland, Russia and Samoa. The latter two can easily be ruled out of the equation from day one, but Japan, after their success in England, have become an emerging force in international rugby and with a home advantage and packed stadiums can be seldom overlooked.
Ireland, under the shrewd tactics and attritional style of Joe Schmidt, will progress, but while Scotland are pre-competition favourites to make it to the knockouts alongside the Emerald Isle, they must be wary of the advancing Cherry Blossoms.
Ireland, often perceived as perennial underachievers on the world stage, became the first side to deny the All Blacks a try since 1995 with their 2018 victory, but can they translate their one-off victory to sustained tournament form, when strength in depth has often proven their shortfall.
Pool B
Reigning champions New Zealand are in Pool B alongside fellow favourites South Africa, who join Italy, Canada and Namibia, who can relish the prospect of a battle for third place.
Italy, under Conor O'Shea, will use their wit and creative interpretations of the laws of the game to attempt frustrate to the giants of the global game, but in reality, success for the former Harlequins coach is big wins over Canada and Namibia to take a respectable third place finish.
While the All Blacks remain outright favourites, the Springboks look back to the 2007 World Champion form for the first time and prove a formidable test, but can the threat become and genuine changing of the guard at the helm of World Rugby.
Pool C
England's Pool, C, is potentially the most exciting on paper with France, Argentina, the USA and Tonga featuring in an open-ended group.
The USA and Tonga may not be household names, but have been known to cause upsets on the international stage and with pressure on the other three sides in the Pool, all of whom you would expect to feature in the quarter-finals, there could be a shock on the cards.
England expects, as ever, and Jones will simply refuse to settle for anything less than a final for spot, leaving France – who always battle for consistency – and Argentina, who have risen to the fore of international rugby after a competitive Rugby Championship display, to battle for the second place in the knockouts.
Pool D
The final group sees Australia, Wales, Georgia, Fiji and Uruguay do battle in Pool D, with Fiji the ones to watch where upsets are concerned.
Australia and Wales are the obvious choices when it comes to exiting the Pool stages with success, but the Islanders cannot be taken for granted with their expansive and powerful brand of rugby starting to take shape.
Wales have been injury hit in the build-up to the Rugby World Cup and must be careful to avoid an early exit, while the Wallabies have been far from formidable over the previous year and could well dismissed early in the knockout stages.
Only eight will progress from the group stages, but when it comes to the latter stages of the competition, it is easy to foresee New Zealand and South Africa being in the final four, with Ireland and England our choice to join them.
Ben's World Cup picks
England Prediction: Defeated in the semi-finals
Rugby World Cup Prediction: New Zealand to be crowned champions