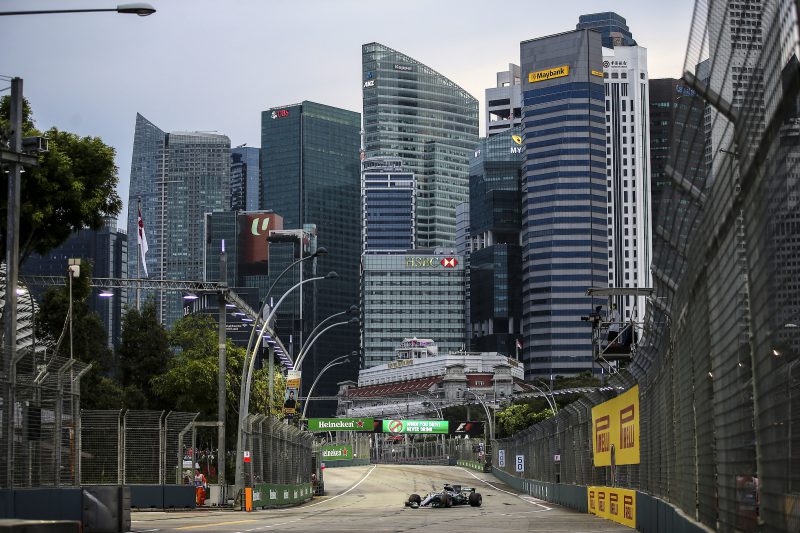 Ferrari are looking to win a third successive race for the first time since 2008 as they arrive in Singapore for the now famous night race.
Charles Leclerc is the form driver in F1 having sealed wins at Spa and Monza and he is looking for a rare treble this weekend.
Ferrari's last triple win was in 2008 when Felipe Massa won the Turkish Grand Prix, following on from his win at the Bahrain GP and Kimi Raikkonen winning in Spain.
The last time one Ferrari driver did it was back in 2006 when Michael Schumacher won the USA, French and German Grand Prix.
But the Monegasque is not too confident of victory on the streets of Singapore as the circuit is not expected to suit the Ferrari which prefers power circuits with long straights.
"The race in Singapore doesn't look as good on paper for us," said Leclerc.
"That's because of the very different circuit layout, with lots of slow corners and fewer straights."
Despite the anticipated issues Ferrari might have at the Marina Bay Circuit, nobody is better around there than his team-mate Sebastian Vettel who has four wins to his name.
Vettell is enduring a torrid campaign, but he is hopeful as he heads to one of his favourite tracks.
"Singapore is a track I really enjoy. It's a street circuit, bumpy and with no room for errors and it's one of the few races run under lights," said Vettel.
"We have seen before that anything can happen in this race, so the final result is hard to predict."
Mercedes are firm favourites heading to Singapore and world champion Lewis Hamilton is looking for a third successive win.
Hamilton has enjoyed his recent battles with Leclerc and he hopes that continues.
"I am not looking forward to the next race thinking it will swing our way," Hamilton said.
"I hope that it is competitive between us – I want this battle to continue. I think it is more exciting for people watching when there is a mixture of teams ahead rather than a team having a one-two.
"Also, of course, the guy in second [in the championship] is my teammate [Valtteri Bottas], so I don't know, it hasn't come into my thought process that other teams are taking points away from him, but that is a part of when you are in a battle for a championship.
"So on one side I welcome it because it's fun, but on the other side it's we need the team to win the Constructors' Championship so I have to hope my teammate is at least second."
SINGAPORE GRAND PRIX – ROUND 15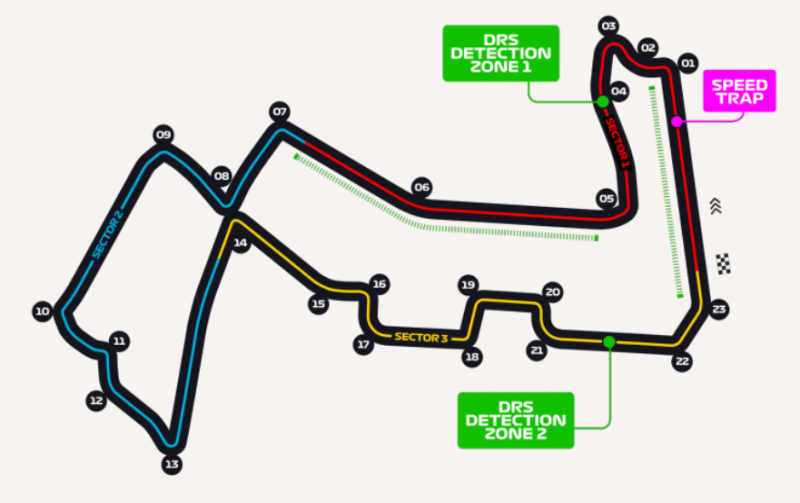 Location: Marina Bay Street Circuit
Track size: 3.14 miles with 23 turns
Number of laps: 61
2018 winner: Lewis Hamilton – Mercedes
Lap record holder: 1:41.905 Kevin Magnussen (2018)
Race winner driver odds from Unibet: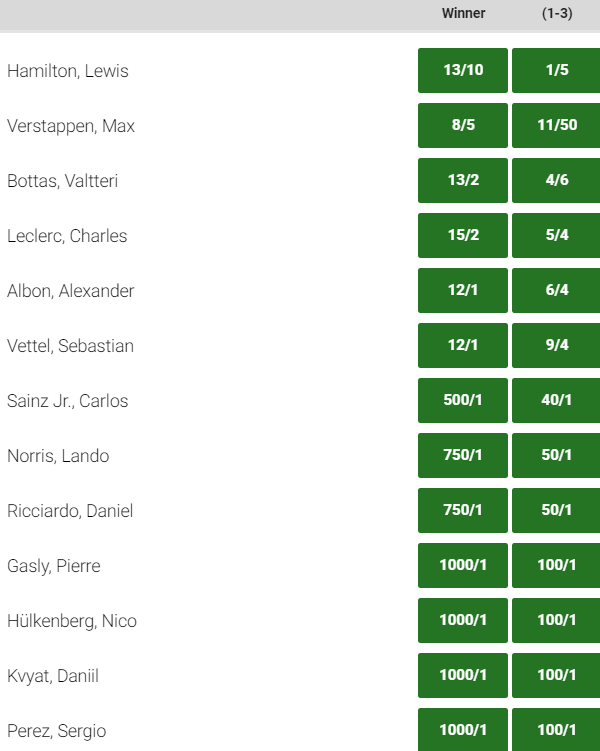 2019 Results
Australian Grand Prix – Valterri Bottas (Mercedes)
Bahrain Grand Prix – Lewis Hamilton (Mercedes)
China Grand Prix – Lewis Hamilton (Mercedes)
Azerbaijan Grand Prix – Valterri Bottas (Mercedes)
Spain Grand Prix – Lewis Hamilton (Mercedes)
Monaco Grand Prix – Lewis Hamilton (Mercedes)
Canada Grand Prix – Lewis Hamilton (Mercedes)
France Grand Prix – Lewis Hamilton (Mercedes)
Austria Grand Prix – Max Verstappen (Red Bull)
British Grand Prix – Lewis Hamilton (Mercedes)
German Grand Prix – Max Verstappen (Red Bull)
Hungary Grand Prix – Lewis Hamilton (Mercedes)
Belgium Grand Prix – Charles Leclerc (Ferrari)
Italy Grand Prix – Charles Leclerc (Ferrari)
Singapore Grand Prix –
Russia Grand Prix –
Japan Grand Prix –
Mexico Grand Prix –  
USA Grand Prix – 
Brazil Grand Prix – 
Abu Dhabu Grand Prix –
2019 Driver and Constructor Standings
1 Lewis Hamilton GBR MERCEDES 284
2 Valtteri Bottas FIN MERCEDES 221
3 Max Verstappen NED RED BULL RACING HONDA 185
4 Charles Leclerc MON FERRARI 182
5 Sebastian Vettel GER FERRARI 169
6 Pierre Gasly FRA SCUDERIA TORO ROSSO HONDA 65
7 Carlos Sainz ESP MCLAREN RENAULT 58
8 Daniel Ricciardo AUS RENAULT 34
9 Alexander Albon THA RED BULL RACING HONDA 34
10 Daniil Kvyat RUS SCUDERIA TORO ROSSO HONDA 33
11 Nico Hulkenberg GER RENAULT 31
12 Kimi Räikkönen FIN ALFA ROMEO RACING FERRARI 31
13 Sergio Perez MEX RACING POINT BWT MERCEDES 27
14 Lando Norris GBR MCLAREN RENAULT 25
15 Lance Stroll CAN RACING POINT BWT MERCEDES 19
16 Kevin Magnussen DEN HAAS FERRARI 18
17 Romain Grosjean FRA HAAS FERRARI 8
18 Antonio Giovinazzi ITA ALFA ROMEO RACING FERRARI 3
19 Robert Kubica POL WILLIAMS MERCEDES 1
20 George Russell GBR WILLIAMS MERCEDES 0
1 MERCEDES 505
2 FERRARI 351
3 RED BULL RACING HONDA 266
4 MCLAREN RENAULT 83
5 RENAULT 65
6 SCUDERIA TORO ROSSO HONDA 51
7 RACING POINT BWT MERCEDES 46
8 ALFA ROMEO RACING FERRARI 34
9 HAAS FERRARI 26
10 WILLIAMS MERCEDES 1
We also spoke with Alistair Gill of Unibet to get their views on the Grand Prix
At a Singapore street track which looks likely to suit Mercedes and where Ferrari are expected to struggle, Lewis Hamilton is the favourite at 13/10.
After 2 races without a win he will no doubt be desperate to get back on top of the podium.
As a mark of the expected unsuitability of the track to Ferrari's car this year, the first Red Arrow doesn't show up in the list until 4th, hat trick seeking Charles Leclerc a 15/2 shot, behind both Max Verstappen (8/5) and Valteri Bottas (13/2).
Sebastian Vettel's torrid season isn't expected to improve much this week, as he's installed as a 12/1 shot along with new Red Bull driver Alex Albon.