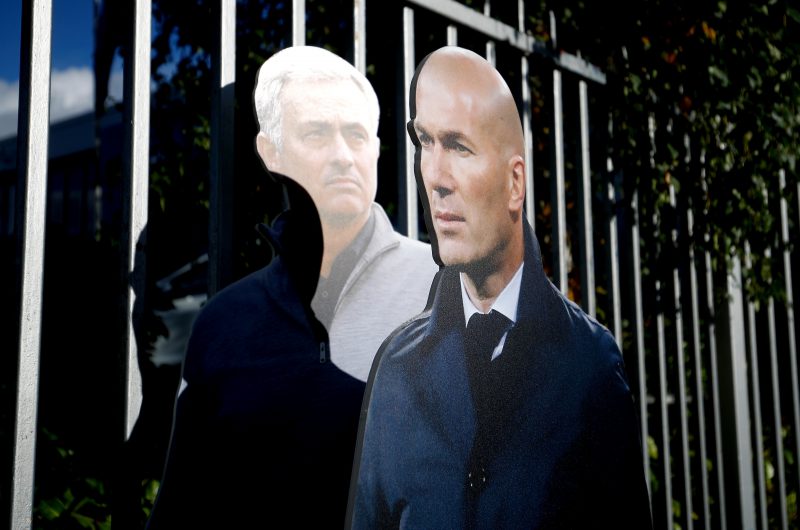 Jose Mourinho is firm favourite to return to Real Madrid and replace Zinedine Zidane as boss, but the Frenchman insists he won't walk away.
Zidane himself returned to the Santiago Bernabeu earlier this year to replace Santiago Solari, who had only been in charge a few months.
Zidane won the Champions League three times in his first spell in charge, but things are not going to plan in his second tenure.
Bookmakers have now cut the odds of Zidane no longer being Real boss at Christmas, following his side's 3-0 defeat to Paris Saint Germain.
But Zidane is unfazed by the speculation.
"I'm not interested in what is said outside the club, the day I pay attention to what's in the press is the day I leave. I feel in a strong position and I never give up," he insists.
"I will keep trying until the last minute and as long as the club will give me the chance to continue. I don't feel questioned at all.
"I'm not bothered by the Mourinho speculation.
"This is how the situation is, and whenever the team has a bad result the impression is that everything needs to change. It's difficult but it's the reality."
Paddy Power make it odds-on at 1/2 that Zizou is gone before December 25th, in from 3/1 before Real's horror start to their Champions League campaign.
It is also rated 6/4 in from 6/1 that he is gone before Halloween, if the horror show continues.
But, an exit for Zidane could be the ideal for Mourinho, who is the 6/5 favourite to make a shock return to his former club.
Spokesman Paddy Power said: "Could Real Madrid's loss to PSG be the beginning of the end for Zinedine Zidane? Jose Mourinho could be in luck if it is.
"He's now odds-on to no longer be manager at Christmas, and the chances of him leaving before October 31st are shorter, too – I'll call that one Zexit."
ZIDANE TO NO LONGER BE REAL MADRID MANAGER:
1/4        Before the end of the season
1/2        By Christmas
6/4        By October 31st
4/1        By September 30th