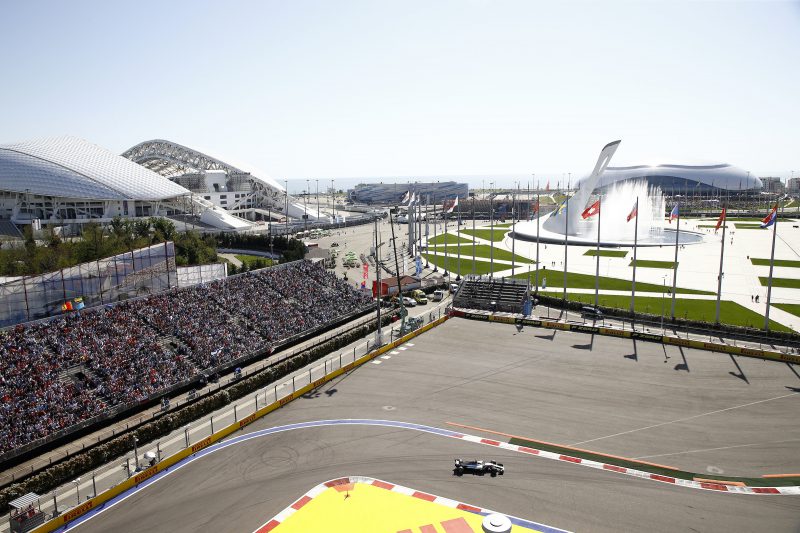 Ferrari look to continue their fine run of form in Russia as they go in search of a fourth successive GP win.
The Prancing Horses have not won four GP's in-a-row since 2008, but they have the chance in Sochi after wins at Spa, Monza and most surprisingly in Singapore last time out.
But even more of a shock than a Ferrari win, was the fact it was Sebastian Vettel who took the chequered flag to end his miserable run of form and take his first win since August 2018.
Now Vettel and Leclerc are looking to bring Mercedes dominance in Russia to an end, as they have won every Russian GP since it returned in 2014, with Lewis Hamilton winning three of those – including last year.
"We have raced several times in Russia. It is another circuit where we have come close to a victory, but have never really succeeded," said Vettel.
Leclerc added: "We have been very surprised in Singapore by how quick we were. Whether it will be the same story here or not, I don't know. Definitely if we wouldn't have had the Singapore weekend, we would not arrive here thinking we are the favorites.
"Mercedes have always been very quick, they have won all years here, so it's going to be very difficult to beat them. But seeing the performance in Singapore, we are a bit more confident. Let's see if we can challenge them."
Hamilton is hoping Mercedes can return to form and said: "We have this gap. But the gap could easily go. It is not won yet. We have to pull our socks up. We can squeeze more out of this car and team.
"We all feel not great right now and that's a good thing, because if anyone in the team is feeling relaxed right now they need a talking to. We go to the next race and try to rev ourselves up and do a better job."
"So on one side I welcome it because it's fun, but on the other side it's we need the team to win the Constructors' Championship so I have to hope my teammate is at least second."
Sochi also gives Daniil Kvyat the chance to race on home soil again.
"I think people love Formula 1 here and it's quite good to see for me," he said.
"I hope to see a lot of people in the grandstands on Sunday and Saturday, it would mean a lot to me. It would mean also that motor sport in Russia is growing a lot and obviously I'm happy to contribute."
RUSSIAN GRAND PRIX – ROUND 15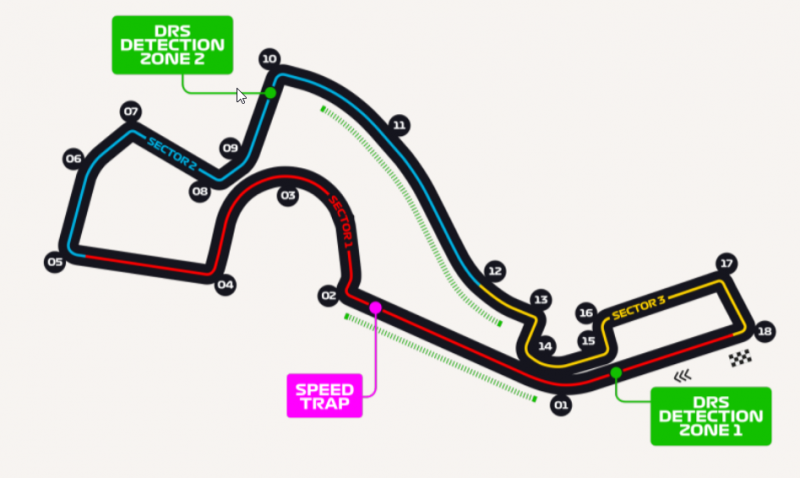 Location: Sochi Autodrum
Track size: 3.63 miles with 18 turns
Number of laps: 53
2018 winner: Lewis Hamilton – Mercedes
Lap record holder:  Valtteri Bottas Mercedes 1:35.861 (2018)
Race winner driver odds from Unibet: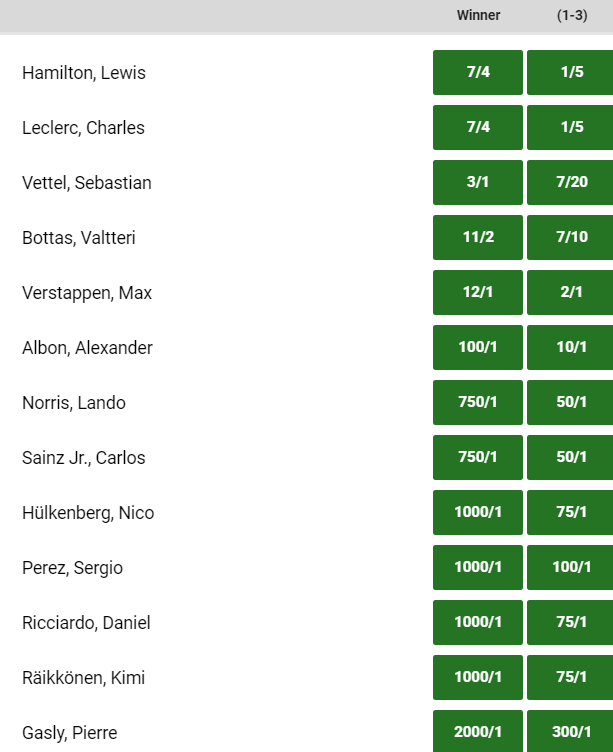 2019 Results
Australian Grand Prix – Valterri Bottas (Mercedes)
Bahrain Grand Prix – Lewis Hamilton (Mercedes)
China Grand Prix – Lewis Hamilton (Mercedes)
Azerbaijan Grand Prix – Valterri Bottas (Mercedes)
Spain Grand Prix – Lewis Hamilton (Mercedes)
Monaco Grand Prix – Lewis Hamilton (Mercedes)
Canada Grand Prix – Lewis Hamilton (Mercedes)
France Grand Prix – Lewis Hamilton (Mercedes)
Austria Grand Prix – Max Verstappen (Red Bull)
British Grand Prix – Lewis Hamilton (Mercedes)
German Grand Prix – Max Verstappen (Red Bull)
Hungary Grand Prix – Lewis Hamilton (Mercedes)
Belgium Grand Prix – Charles Leclerc (Ferrari)
Italy Grand Prix – Charles Leclerc (Ferrari)
Singapore Grand Prix – Sebastian Vettel (Ferrari)
Russia Grand Prix –
Japan Grand Prix –
Mexico Grand Prix –  
USA Grand Prix – 
Brazil Grand Prix – 
Abu Dhabu Grand Prix –
2019 Driver and Constructor Standings
1 Lewis Hamilton GBR MERCEDES 296
2 Valtteri Bottas FIN MERCEDES 231
3 Charles Leclerc MON FERRARI 200
4 Max Verstappen NED RED BULL RACING HONDA 200
5 Sebastian Vettel GER FERRARI 194
6 Pierre Gasly FRA SCUDERIA TORO ROSSO HONDA 69
7 Carlos Sainz ESP MCLAREN RENAULT 58
8 Alexander Albon THA RED BULL RACING HONDA 42
9 Daniel Ricciardo AUS RENAULT 34
10 Daniil Kvyat RUS SCUDERIA TORO ROSSO HONDA 33
11 Nico Hulkenberg GER RENAULT 33
12 Lando Norris GBR MCLAREN RENAULT 31
13 Kimi Räikkönen FIN ALFA ROMEO RACING FERRARI 31
14 Sergio Perez MEX RACING POINT BWT MERCEDES 27
15 Lance Stroll CAN RACING POINT BWT MERCEDES 19
16 Kevin Magnussen DEN HAAS FERRARI 18
17 Romain Grosjean FRA HAAS FERRARI 8
18 Antonio Giovinazzi ITA ALFA ROMEO RACING FERRARI 4
19 Robert Kubica POL WILLIAMS MERCEDES 1
20 George Russell GBR WILLIAMS MERCEDES 0
1 MERCEDES 527
2 FERRARI 394
3 RED BULL RACING HONDA 289
4 MCLAREN RENAULT 89
5 RENAULT 67
6 SCUDERIA TORO ROSSO HONDA 55
7 RACING POINT BWT MERCEDES 46
8 ALFA ROMEO RACING FERRARI 35
9 HAAS FERRARI 26
10 WILLIAMS MERCEDES 1
We also spoke with Alistair Gill of Unibet to get their views on the Grand Prix
With the Red Bulls handicapped this weekend by grid penalties, the fight looks to be between Mercedes and Ferrari. Ferrari have won 3 on the bounce, with Mercedes looking to avoid their longest losing streak in the hybrid era. But, you wouldn't necessarily know from the market. Hamilton and Leclerc share favourtism at 7/4, with newly off the mark Vettel behind at 3/1, and Bottas rounding out the Merc/ Ferrari group at 5/1.
After FP1 Leclerc topped the time sheets and couldn't be discounted given his fine recent form, but the bet may be Max Verstappen to make the podium. He recorded the 2nd fastest time showing that Red Bull won't struggle at the track. His grid penalty is 5 places, which won't be ideal for him, but given a strong qualifying position, the man renowned for his ability at wheel to wheel racing would back him self to overtake those immediately in front of him quickly enough and then have every chance to make the top 3.