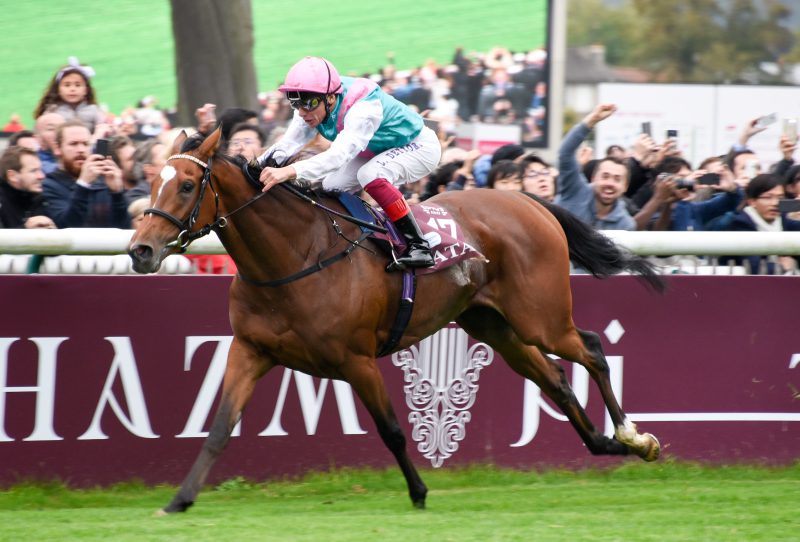 The final field for the Qatar Prix de l'Arc de Triomphe has been confirmed as Enable goes in search of her record breaking third win.
Enable is one of 12 horses going search of victory at Longchamp on Sunday.
Final field of 1⃣2⃣ declared for the 2019 Qatar Prix de l'Arc de Triomphe at @paris_longchamp

🇫🇷 French King
🇫🇷 Waldgeist
🇬🇧 Ghaiyyath
🇯🇵 Kiseki
🇯🇵 Blast Onepiece
🇯🇵 Fierement
🇨🇿 Nagano Gold
🇬🇧 Enable
🇮🇪 Magical
🇮🇪 Japan
🇫🇷 Soft Light
🇫🇷 Sottsass pic.twitter.com/Mf3jXcU3L6

— Timeform Live (@TimeformLive) October 3, 2019
Enable is one of eight horses to have won the Prix de l'Arc twice, but no horse has ever won it three times.
Frankie Dettori has never lost in the 12 times he has ridden Enable, who is looking for a 13th successive win – which is set to bring down the curtain on her career.
"Enable has taken me emotionally where no other horses have. We have won two Arcs together, she continues to break records, she has a tremendous presence, the public are attached to her, and the icing on the cake was winning the King George," said Dettori.
"She shows such a will to win and that is why I and everyone else loves her. I am so nervous about the day itself.
"If I had to pick one horse to worry about it would be Japan. He's got low mileage, he's an improving horse and is a good three-year-old. He is my biggest danger."
Two time Prix de l'Arc de Triomphe winners
Ksar – 1921, 1922
Motrico – 1930, 1932
Corrida – 1936, 1937
Tantieme – 1950, 1951
Ribot – 1955, 1956
Alleged – 1977, 1978
Treve – 2013, 2014
Enable – 2017, 2018
Trainer John Gosden believes Enable arrives in peak condition.
"She's got a great stride on her and a great head and a wonderful outlook. She's always got her ears pricked and she's very enthusiastic about everything," the trainer explained.
"When she was younger, she would run with unhindered exuberance and was often winning her races well. Now she's got a little older and wiser, she's rather like a boxer who knows how to win on points – rather than going straight in for the immediate knockout.
"I think that's maturity that comes. She's filled her frame and there's no doubt in my mind that a Flat thoroughbred horse is probably at their absolute peak at five. She's fully grown now and fully developed.
"We'll see how we go – there's some mighty opposition coming at us, there's no doubt about that."
Champion trainer Aidan O'Brien is looking for his third Arc and saddles second favourite Japan, whilst French hopes are looking towards Jean-Claude Rouget's French Derby winner Sottsass.
"If it is written that I finish my training career without having won the Arc, then so be it. If it is written that I win it with Sottsass or another one in the years to come, then that's great," said Rouget.
"I am going into the Arc with confidence, but with a horse who has never encountered Enable, who has never encountered Japan, who has never really met anyone.
"So, I can't invent anything. I have no reference. I can't say he is going to take his revenge or anything. I don't know. What I do know is that the horse is looking good, he is in good form. Everything is all right.
"I always want the best horse of the race to win. I am very fair play and if it is Enable, Japan or another horse, if they are better than him, then that's OK. I just hope that he can express himself, that the race will go well for him."
Bookmakers are still firm on Enable who remains 8/11 favourite to take the win. Japan is the 11/2 second favourite, ahead of Sottsass at 6/1.
"With only 11 rivals lining up against her, Enable faces her smallest Arc field to date, and as a result her draw of stall nine shouldn't cause Frankie Dettori too many problems, ensuring she will be sent off the hottest favourite since Sea The Stars triumphed at 4/6 ten years ago," said Coral's David Stevens.