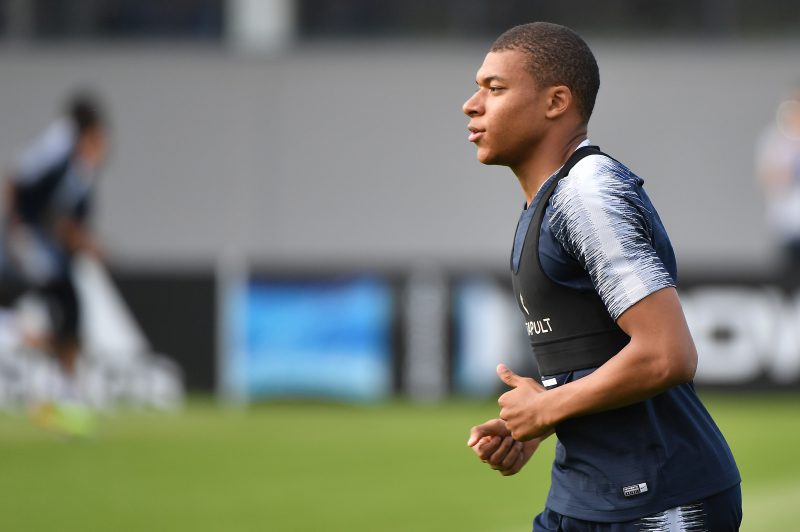 Real Madrid are confident they will be securing a deal for French superstar Kylian Mbappe in the next 12-months.
Madrid are secured the signing of Eden Hazard last summer, who was the latest Galactico – but Mbappe would represent the biggest deal in the club's history, if and when they can secure a deal.
The 20-year-old is considered by many to be the most valuable player in world football, surpassing his current Paris Saint Germain team-mate Neymar.
Now PSG could be looking at both Mbappe and Neymar departing for Spain next summer.
Neymar has not hidden his desire to return to Barcelona, whilst Real are desperate to land Mbappe and their coach Zinedine Zidane is not quiet about the matter.
PSG sporting director Leonardo is not happy with Zidane's remarks about Mbappe – but he won't be stopping anytime soon.
"All I said was something the player had already said, that it was his dream to wear Real Madrid's white jersey," Zidane said.
"That's all I said, and I'm saying it again, and I will repeat it everyday.
"Regarding Leonardo's reaction I have no comments. He says whatever he wants, he's entitled to, just like I'm entitled to say whatever I want today."
Liverpool fans have become excited in recent weeks about claims that they would be in the mix for his signature – which would likely be around £250million or more – but Jurgen Klopp has since dismissed this.
"From a sporting point of view, there are not a lot of reasons to not sign Mbappe, what a player he is," the Reds boss said. "But it is about the money, of course.
"No chance. Absolutely no chance, sorry for killing that story. I don't think there is a club in the world that can buy Kylian Mbappe from PSG. And we are involved in that too. We cannot do it, it is as easy as that.
"We have nothing [more] to say about it to be honest, but [buying] this calibre of player is difficult."
Sources in Spain firmly believe that it is a matter of time before Mbappe arrives in Madrid, with PaddyPower making him 4/1 to move to the Santiago Bernabeu next month.
A source told me: "Florentino Perez has been planning this for sometime, Real will not be beaten to Mbappe – it would be a huge shock if he was not presented as a Real player in 2020."