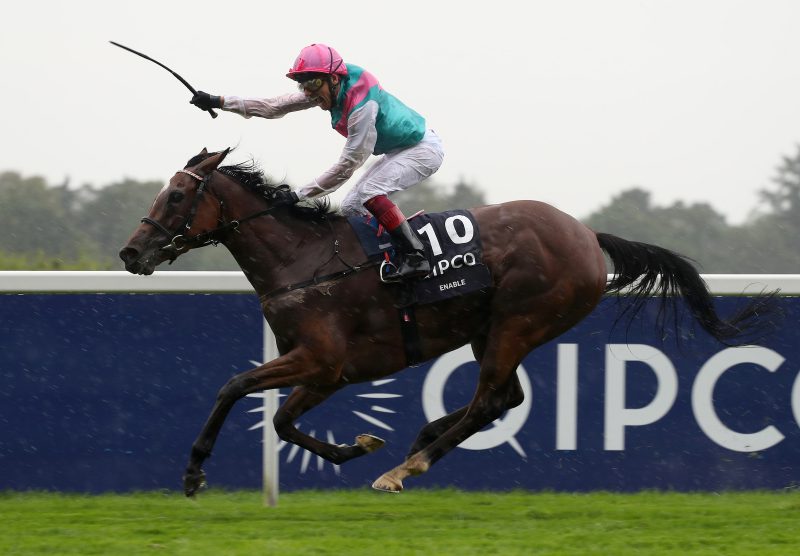 Enable was crowned Cartier Horse Of The Year for the second time, having previously taken the prestigious award in 2017.
She became just the third horse to be a two-time Cartier Horse Of The Year after Frankel (2011 & 2012) and Ouija Board (2004 & 2006).
Bred by owner Prince Khalid Abdullah's Juddmonte Farms, the five-year-old added a further three Group 1 (G1) successes to her remarkable CV in 2019, with victories in the Coral-Eclipse, King George VI & Queen Elizabeth QIPCO Stakes and Darley Yorkshire Oaks. The Nathaniel mare, the only European-based filly or mare to gather career earnings of over £10 million, remains in training for 2020.
On accepting the Cartier Horse Of The Year Award, Juddmonte's Chief Executive Douglas Erskine-Crum said: "On behalf of Prince Khalid and his family, thank you very much indeed to Cartier for this fantastic evening and for the awards' ceremony.
"I just want to tell you a little bit about the team behind Enable. You have heard from Teddy (Lord Grimthorpe) what she means to the team and it is the team that got her there. It started off eight years ago with Philip Mitchell, who was then General Manager, talking with Prince Khalid about matings and giving his advice to send Concentric to Nathaniel. The result of course was Enable.
"Philip was with the Prince for nearly 30 years. Enable was then foaled at Banstead Manor Stud under the watchful eye of Simon Mockridge, who is now the Stud Director there and who is the longest-serving member of Juddmonte – he has worked for the Prince for 39 years. Enable then went to Ireland under the watchful eye of Rory Mahon, who has worked for the Prince for 38 years. Enable was the fifth generation of her family that Rory has been responsible for.
"Then Teddy, only 20 years with the Prince, took over and managed Enable as he does with all the Prince's horses so brilliantly.
"She went to John Gosden, who has been training for the Prince for 36 years, having had his first horse for the Prince in California in 1983. She was ridden by Frankie who rode his first winner for the Prince in 1989 – 30 years ago.
"So, you can see how important the team is to Enable. I would just like to add the whole Juddmonte team does not work for a company, we work for the most marvellous individual – Prince Khalid. He will be thrilled, as will his sons and his whole family. Many of you will have seen he had seven grandsons at Ascot and at Longchamp.
"The future is bright for Juddmonte and thank you very much indeed for a lovely evening."
Stradivarius, also trained by John Gosden and ridden by Frankie Dettori, won the Cartier Stayer Award for the second successive year.
Owned and bred by Bjorn Nielsen, the five-year-old Sea The Stars horse was nearly all-conquering with repeat wins in the G2 Matchbook Yorkshire Cup, G1 Gold Cup at Royal Ascot, G1 Qatar Goodwood Cup and G2 Weatherbys Hamilton Lonsdale Cup handing him the Weatherbys Hamilton Stayers' Million for the second time. He also went on to take the G2 Magners Rose Doncaster Cup, making him the eighth winner of the Stayers' Triple Crown. It is intended that he too will remain in training for 2020.
Simon Marsh, Racing Advisor to Bjorn Nielsen, read out a statement from the owner which said: "I would like to thank Cartier and the Daily Telegraph for this award.
"It is a privilege to own a horse like Stradivarius. It has been gratifying to see him stimulate interest in the staying division. Watching Big Orange, Order Of St George, Dee Ex Bee, Cross Counter, Kew Gardens and Stradivarius compete against each other over the last two seasons has been exciting not just for me but for all racing fans. Congratulations to connections of all those excellent horses.
"With the initiative of the BHA, and generous support from Weatherbys Hamilton through the bonus, QIPCO on Champions Day and Qatar at Goodwood, together with the prize money for the Gold Cup, the staying division has never been more attractive. Thank you to them all.
"Finally, of course Stradivarius could never have achieved what he has over the last couple of years without the genius of John Gosden, his hardworking staff and the brilliant riding of Frankie Dettori. I owe them all. Thank you."