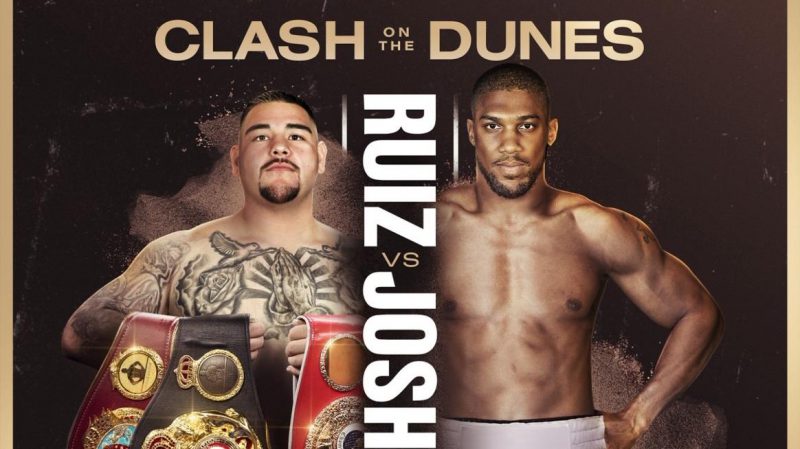 Anthony Joshua faces his World Heavyweight rematch with Andy Ruiz Jr in Saudi Arabia – The Clash on The Dunes.
30-year-old Joshua lost his unbeaten record and his IBF, WBA and WBO world titles to Ruiz, when the Californian-born Mexican stunned him by knocking him out in June.
Ruiz was a last-minute replacement for Jarrell Miller and he took his chance with both hands, in what is widely regarded as one of the biggest upsets in sporting history.
But Joshua, who was widely criticised for under-estimating Ruiz, insists he is coming into this fight full of power.
"I am punching loose and heavy – rhythm and flow," said Joshua.
"Before I was trying to bench-press a house. I used my body to get where I needed but then I started realising the sweet science of the sport.
"I am punching like a horse kicking backwards right now."
But Ruiz himself does not believe Joshua is any more dangerous now, than six months ago.
"I was the one who had the strength, the one backing him up. When I jabbed I pushed him away," he said.
"I know he lost weight and that he will try and box me around, so it's my job to prevent that.
"I have been doing this since I was six and it is finally paying off. There is no way I am going to let these belts go, I will die trying. It has been a rollercoaster and now that I made the dreams come true there is no way I will let these go."
Tale of the Tape – courtesy of Oddsmonkey.com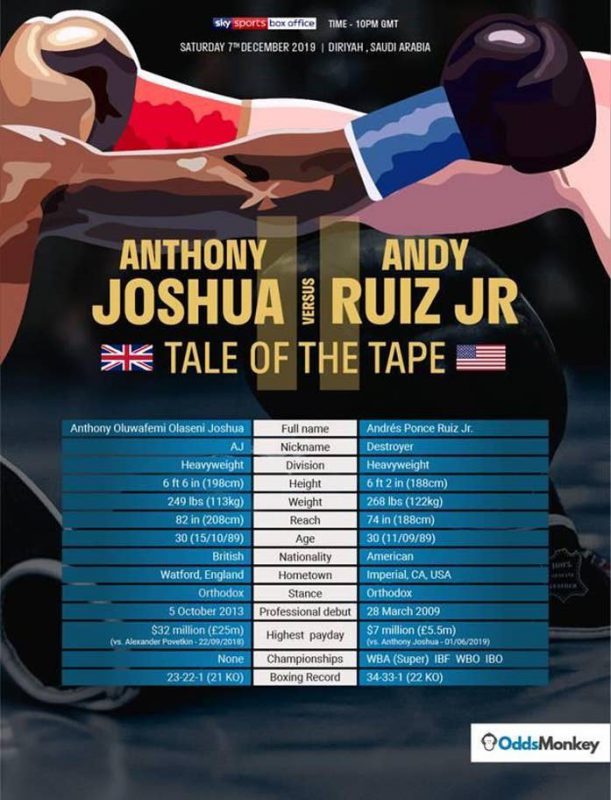 Former world champion David Haye, in his exclusive Betfair column ahead of the fight, believes Joshua will win out.
"Questions have been asked over whether Anthony Joshua has had enough time between the two fights with Andy Ruiz Jr to make the improvements needed to win the rematch," said Haye.
"Judging by his performance back in June, AJ has had plenty to work on, but I believe he has had time on his side. A fighter can change significantly during a 12-week training camp. In fact, it has been much longer than that, as this fight would have dominated the Joshua camp's thinking since the summer.
"It's worth remembering Andy Ruiz had a short training camp for the first fight, having stepped in at short notice to replace Jarrell Miller. He has now had the benefit of full preparations, so it' up to Joshua to raise his game to match that.
"I'm split regarding the outcome of this fight and believe it will go one of two ways. If the night goes the full 12 rounds it means Ruiz wasn't able to implement his game plan and throw cluster punches, hurt his man and work the body. In that case I'd imagine Joshua was able to keep his opponent at distance and win the majority of rounds off the jab.
"If you are betting on the outcome it will be worth paying close attention to the tactics and in-play betting odds at Betfair. If Joshua is able to win build up a lead in the first half of the fight, I expect Ruiz to change his approach and take more risks. In which case, Joshua will have a very good chance of stopping the champion in the later rounds, between 10 and 12."