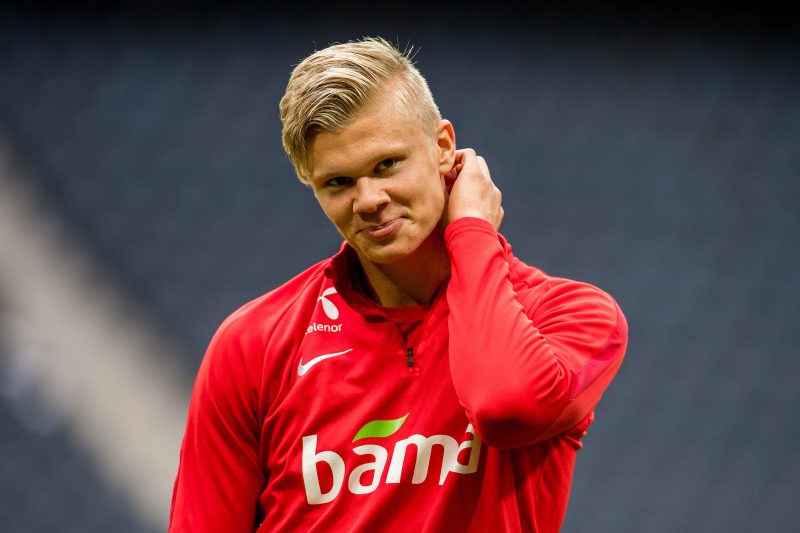 Manchester United are pushing hard to try and win the race to sign Erling Haaland.
The Norwegian teenager is considered one of the finest prospects in world football, and this season he has stood out – particularly in the Champions League – with RB Salzburg.
Haaland has bagged 24 goals for Salzburg, which has led to interest emerging from every major league. Man United are leading the chase, but Liverpool, Real Madrid, Barcelona, Napoli, Juventus, Borussia Dortmund and RB Leipzig are keen.
Haaland, who was born in Leeds as his father was Alfe Inge was playing for the club, is now considering his options with Man United pushing for a deal in January – which could include a loan back to Salzburg.
Haaland himself is assessing what is next and whilst United are keen, they are have real rivals for his signatures. Borussia Dortmund believe he would be best served moving to Germany with them whilst Salzburg's sister Red Bull club Leipzig – currently top of the Bundesliga – believe they would be the best fit.
Haaland himself is trying not to let the speculation get to him and recently said: "I just focus on my job – playing football – to enjoy what I do every day and to go in with a clear mind-set to be in the present and enjoy the moment right now.
"My focus is Salzburg and me as a player. So it's not hard at all. I'm enjoying playing football."
His current manager at Salzburg is American Jesse Marsch – who is trying to advise him, along with his father.
"For Erling right now, in his development path, him and his father made a really good decision to come here in the first place," said Marsch.
"And we're hopeful that Erling finishes the year here and that he can continue to grow and become a bigger and better man so that when it's time for him to take the next step he's fully, fully ready."
One team who are competing are Leipzig, but they are worried about the rivals.
"Yes, we met with him. We are interested in the player, great interest," RB Leipzig's head of soccer, Oliver Mintzlaff.
"He listened to it, logically, and is very open to a move. He would like to change (clubs) in summer at the latest.
"It is not easy. There's Manchester United, Juventus, Borussia Dortmund. There are a few other clubs as well.
"Of course, our club also has certain guard rails and limits. And I have named the clubs that compete, and there may be salary regions that we don't want to go into. (The fee) is still manageable, but the package does not only consist of the transfer fee.
"It's the same cliche again: we can buy everything and we can get everything and we can do everything. Unfortunately, we can't, otherwise Haaland would already be with us."
As United's confidence grows, their odds continue to tumble and they are now Evens to land him with BetVictor.
BetVictor's Head of ante post Football Michael Triffitt said: "Erling Haaland is a very exciting player and is certainly one of the hottest prospects around Europe at present. With plenty of admirers the race for his signature in January is one that is attracting plenty of betting interest.
"Manchester United are even money favourites after opening at 6/1 and the Red Devils appear confident of persuading him to move to England. German outfit RB Leipzig are enjoying a successful season and after early birds snapped up the 16/1 he is just 4/1 to make Germany his next destination. Fellow Bundesliga giants Borussia Dortmund have also expressed strong interest and can be backed at 5/1. Its 20/1 bar those three but it wouldn't be a surprise if another club sprang from that pack to make a late run either."