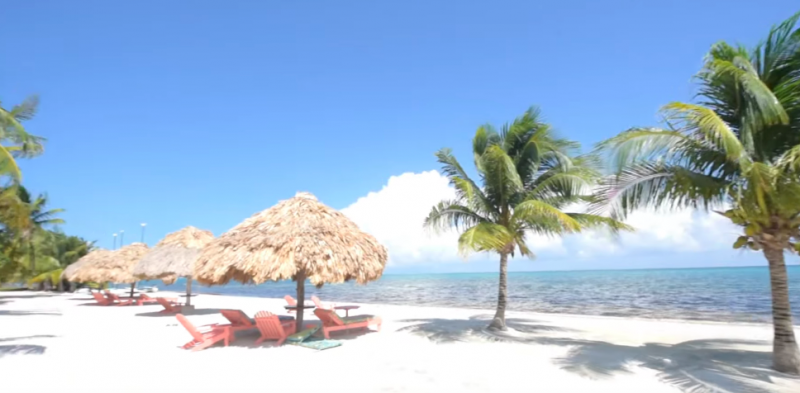 Two Arsenal fans have the chance to be sent to one of the most remote luxury locations in the world!
It's tough being a football fan. And after years of success, Arsenal have gone downhill quicker than Hector Bellerin in full flight.
For Gooners who just wish they could get away from it all, well now you can – thanks to Wager who want you to nominate a disillusioned Arsenal mate for a much needed getaway.
After Sunday's drubbing against Manchester City, the friend-to-friend betting app has seen enough – and will send two Arsenal fans to one of the most remote places on the planet. Simply to get as far away as possible from this miserable season.
They have spun the office globe to find the perfect location to disappear – landing on the stunning island of St George's Caye in Belize.
Lonely Planet named the central American nation as one of the top 10 countries to visit in 2019, where Gunners supporters are guaranteed a Sky Sports, Internet and AFTV free zone – all while sipping a cocktail in the boiling hot sun, not cold, wintery, rainy Islington.
This tiny island is located just eight miles east of capital Belize City, but it's where time stands still; it has no roads, no cars, no grocery stores and no shopping malls.
To unplug from the world of mediocre Premier League football, the island's resorts are free of televisions, phones and in-room Wi-Fi. Two flights from London via the US and tranquility and a haven without Robbie or Troopz awaits.
Instead of packing in screen time, curl up in a hammock and dream of the Invincibles team – and despite being over 5,000 miles from North London, fans will still feel at home as it's quiet and silent, just like The Emirates.
While there, you can scuba dive in the world's largest marine sinkhole to REALLY be out of sight and out of mind – and you swim with sharks, much like Mesut Ozil during a home game.
Giving Arsenal fans the chance to go from Gooner to Goner, fans can bag this once-in-a-lifetime opportunity by simply downloading the Wager app and sending a bet to a mate before the end of March, and both of you will be automatically entered for some much needed R&R. Belize-y peasy!
Arsenal have made their worst start to the season since the 1970s, and Wager Co-Founder Leo Barnes believes their kind intervention comes at the perfect moment.
Barnes said: "It's fair to say Arsenal have had a turkey of a season, and after Sunday's embarrassment against Manchester City we thought what better way to provide some relief for Arsenal fans than to offer them the opportunity to get as far away from the Emirates as possible.
"We want to do our bit and give back to those beleaguered Gooners – and St George's Caye is about as remote as you can get while still being a beautiful place to unwind – even Granit Xhaka couldn't hit you with one of his wayward long balls."