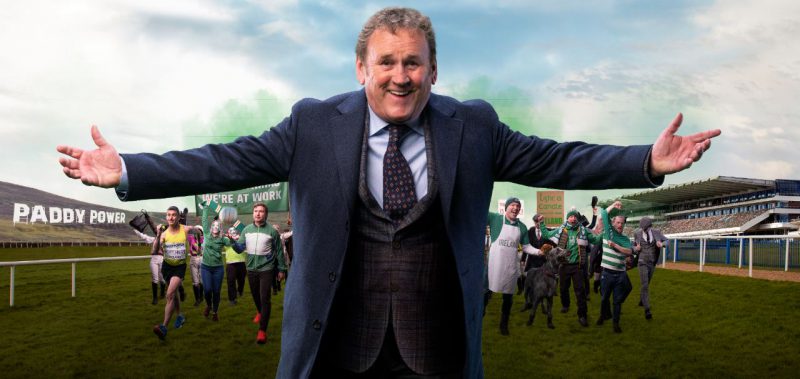 Hollywood heavyweight Colm Meaney fronts a new Paddy Power advert, which stokes the sporting rivalry between Ireland and England ahead of the Cheltenham Festival.
In the ad – the Star Trek actor aims various tongue-in-cheek digs at England's supposed 'slights' against his nation.
In one scene, he says: "This is for Geoblocking the iPlayer, and for dragging us into your messy divorce. For leaving us in the worst parts of your airport and for chasing out the first Royal's that were ever any fun."
He adds: "And for not caring as much as we do about Ireland versus England!"
Speaking about his involvement in the advert which celebrates the Green Army arrival and anticipated success at The Festival, Colm says: "It's a sort of gentle joshing, if you like, given the sporting rivalry that exists between England and Ireland. I think this is a nice gentle push back at that."
He admits the current political climate both here and across the water, in the aftermath of Brexit, has only served to make that sense of rivalry feel even livelier this year.
"It's certainly given things a little more sauce, hasn't it? A little bit more heat."
Spokesman Paddy Power said: "If anyone can air our grievances about the state of the pints served across the water and their complete lack of soda bread in dramatic fashion, it's Colm."
He continues: "We're hit and miss when it comes to most sports, but the arrival of Cheltenham marks our time to shine. Horse racing is the one sport we are consistently good at.
"This is our World Cup and we're about to unleash our team of four-legged Zidane's to win big on their turf. This ad is our battle cry ahead of The Festival, and we intend to leave our hoofprints all over it – with a little help from Mr Meaney."
As proud sponsors of the Irish Cheltenham takeover, this latest campaign, which is a collaboration between Paddy Power and Irish creative agency The Public House, comes as the betting firm launch their new sponsorship the Grade 1 Paddy Power Stayers' Hurdle, a race worth over €390,000, on day three of the Festival.
The betting firm also sponsor The Prestbury Cup, a much sought over accolade that celebrates the famous and good-natured competition between both nations and is awarded to the country with the most winners at the end of The Festival.