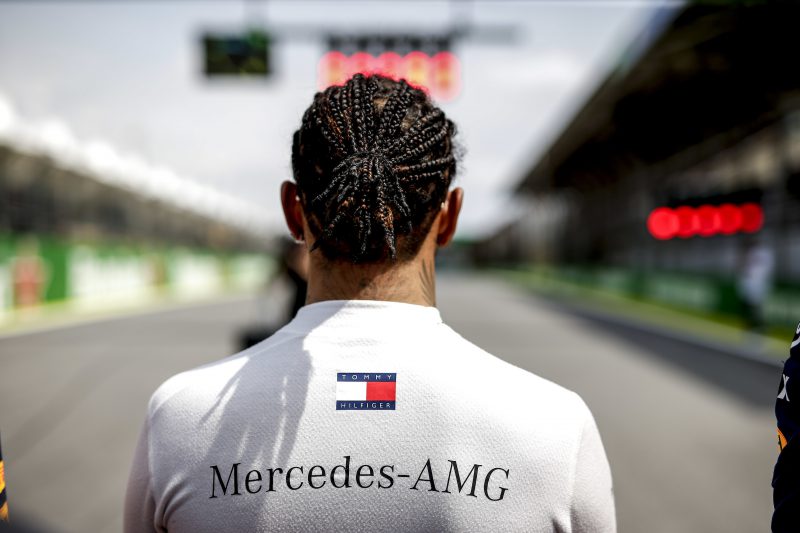 The 2020 Formula 1 season promises to be an intriguing one as it is the last before new regulations look set to overhaul the sport in 2021.
From 2021, teams will have to abide by certain financial caps, and the general design will be adapted to make racing better but their will be less technology around things like aerodynamics – but that is for is all for 12-months time.
We have seen seem fascinating innovations in the off-season, with the main talking point being Mercedes new DAS system – Dual Axel Steering, which means the drivers pull the steering well back at certain points to alter their line of their wheels.
Coming into the season and Mercedes are firm favourites to continue their domination as they go in search of a seventh straight constructors title, whilst their number one driver Lewis Hamilton could become equally – with Michael Schumacher – the most successful F1 driver of all time with a seventh world title.
We look ahead to the new campaign with Unibet – who will cover every Grand Prix with us, and we get the opinion of Ali Gill.
"For all the summer work done by the teams to try and catch up with the Mercedes juggernaut, the odds would suggest before a wheel has hit the tarmac in a competitive manner that it might be in vein. Having already topped the first set of testing timesheets in 2020, the Silver Arrows are priced at 11/50 to retain their Constructors title for the 7th year running, and their number 1 driver Lewis Hamilton is an odds on favourite to retain the title he's now won 6 times, priced at 13/25.
"The introduction of an innovative and ground breaking new steering wheel highlights how Mercedes are likely to be ahead of the pack again, and it would require a dramatic change at the top end to see them relinquish the title. In behind them is Red Bull priced 9/2, and the Ferrari's, over 10 years without a title, are 5/1.
"The Drivers' Championship is an exact mirror, with the Red Bull of Max Verstappen second favourite behind Hamilton at 9/2. Such is the Mercedes perceived dominance already that their second driver is next, Valteri Bottas a 5/1 shot ahead of the Charles Leclerc at 13/2. Interestingly, his team mate Sebastian Vettel starts the season as a 10/1 shot to regain the title he last won in 2013, having suffered a tough 2019.
"It may well be that Ferrari will surprise us come Melbourne with a vastly improved package, and perhaps Charles Leclerc or Max Verstappen will have standout and breakout seasons, but at the minute it is hard to sway away from the obvious outcome in both markets, however unappealing the prices.
"A relatively quiet off season saw just a couple of changes – one was that Red Bull's junior team changed its name from Toro Rosso to Alpha Tauri. In terms of drivers we have seen just two changes from the end of last season. Esteban Ocon is back in the spot after missing out in 2020, replacing Niko Hulkenberg at Renault and the other change is Canadian Nicholas Latifi, coming in at Williams to partner George Williams, with Robert Kubika missing out."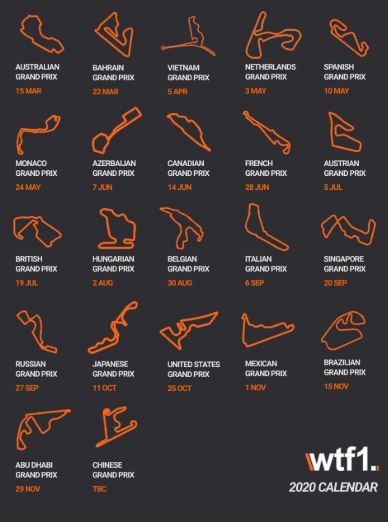 The calendar is 22 races long for 2020, with two new races introduced in Vietnam and Holland, although the Chinese Grand Prix has been postponed due to the Coronavirus epidemic and it remains to be seen if it will be rescheduled.
Here is a run down of every team and driver, including their odds heading into the new season…
ALFA ROMEO

Last season: 57 points – 8th in Constructors' Championship
2020 title odds: 1000/1
ANTONIO GIOVINAZZI (Italian)
Last season: 14 points – 17th in Drivers' Championship
2020 title odds: 2000/1
"I feel just less stressed compared to last year. I have already one year on the shoulder, I know already how I can approach the race weekend. I just [feel] more ready, I want to be already from race one in a good shape as we need to try to score points already from the beginning of the season."
KIMI RAIKKONEN (Finnish)
Last season: 43 points – 12th in Drivers' Championship
2020 title odds: 1500/1
"We still have a lot to learn and we want to know as much as possible about the car for Australia. At the moment we have a reliable car, which is important. It is a good starting point for us. We will try to improve ourselves compared to a year ago. We must learn from the problems and mistakes we had back then."
ALPHA TAURI
Last season: 85 points – 6th in Constructors' Championship
2020 title odds: 1000/1
PIERRE GASLY (FRENCH)
Last season: 95 points – 7th in Drivers' Championship
2020 title odds: 1500/1
"It's just an amazing adventure. The last two years have been pretty good. For sure the podium in Brazil last year was the best race I've had in my career, but of course the target is to repeat this kind of performance as many times as possible, and we'll try to do it this year again."
DANIIL KVYAT (RUSSIAN)
Last season: 37 points – 14th in Drivers' Championship
2020 title odds: 1500/1
"I'll try to get as many good finishes for the team in order to help secure a good position in the championship. 2019 was a good year for me, with 10 top-10 finishes and a podium in Hockenheim, so it's definitely a year to remember, but there's obviously room for improvement. I wouldn't say I've set myself any specific targets for this year; I want to keep doing what I was doing, but better."
FERRARI
Last season: 504 points – 2nd in Constructors' Championship
2020 title odds: 5/1
SEBASTIAN VETTEL
Last season: 240 points – 5th in Drivers' Championship
2020 title odds: 23/2
"Obviously we had a clear plan of what we wanted to achieve with this year's car, and it is going in that direction, but now I think it's up to us to really explore the car back to front and see how it responds on track."
CHARLES LECLERC
Last season: 264 points – 4th in Drivers' Championship
2020 title odds: 13/2
"I believe that last year we had quite a big improvement from the first race to the last race. I think we got closer to Mercedes. We just need to put our head down, try to focus on ourselves as always and I'm confident that we will make the steps forward and the ones we need to get closer in the case we are behind at the first race."
HAAS
Last season: 28 points – 9th in Constructors' Championship
2020 title odds: 2000/1
ROMAIN GROSJEAN
Last season: 8 points – 18th in Drivers' Championship
2020 title odds: 2000/1
"You want to feel comfortable in a new car. We're normally quite effective at knowing quickly if the car is good or not. We've also learned a lot from 2019, when testing went well, but the rest of the season not so much. I think issues were masked by the fact that we had been fast in Barcelona at the start of the year. Then in some races we were fast but in others not."
KEVIN MAGNUSSEN
Last season: 20 points – 16th in Drivers' Championship
2020 title odds: 2000/1
"I'm confident that the team is going to provide another good car this year. Hopefully we've learned from the mistakes of last year so we can have a good season. I'm very confident on that."
McLAREN
Last season: 145 points – 4th in Constructors' Championship
2020 title odds: 250/1
CARLOS SAINZ
Last season: 96 points – 6th in Drivers' Championship
2020 title odds: 500/1
"We got a good understanding of the car during the six days of testing, but you can never really be sure of where your competitors are until the first race. What I'm sure of is that we're ready for the challenge. The excitement of the fans, the atmosphere around the track and the tension before lights-out make for an amazing weekend. I'm looking forward to the first on-track battle of the season."
LANDO NORRIS
Last season: 49 points – 11th in Drivers' Championship
2020 title odds: 1000/1
"As a driver, and comparing myself to this time last year, I'm a lot more confident and I feel a lot better.  And that's a good thing – it makes me feel [like] I'm in a much better position because of that going to Australia."
MERCEDES
Last season: 739 points – 1st in Constructors' Championship
2020 title odds: 11/50
LEWIS HAMILTON
Last season: 413 points – 1st in Drivers' Championship
2020 title odds: 1/2
"I have no idea, we have no idea where we are going to stand compared to everybody else. We just have to try and be more efficient this year and we still have a lot of work to do."
VALTTERI BOTTAS
Last season: 326 points – 2nd in Drivers' Championship
2020 title odds: 5/1
"To be in the same team with Lewis, to be honest, sometimes it's a pain in the ass, because he is pretty quick, you know. He's tough – tough to beat."
RACING POINT
Last season: 73 points – 7th in Constructors' Championship
2020 title odds: 250/1
SERGIO PEREZ
Last season: 52 points – 10th in Drivers' Championship
2020 title odds: 350/1
"I think this can be the most solid package I've had in my career to start the season. I hope in Melbourne that proves to be right, but at the moment the car is working well."
LANCE STROLL
Last season: 21 points – 15th in Drivers' Championship
2020 title odds: 1000/1
"I've worked with everyone for an entire season now and been in this environment for a whole year. I can't wait to do it all over again. I've seen a lot of change from when I first arrived and this is definitely a time where we're growing as a team. I spend a lot of time at the factory and I'm seeing this growth daily. We were on the back foot going from 2018 into 2019 but I think the team is much more settled now and 2020 gives us a chance to show what we can do. So much effort has gone into this season's package so it's all really exciting!"
RED BULL
Last season: 417 points – 3rd in Constructors' Championship
2020 title odds: 9/2
MAX VERSTAPPEN
Last season: 49 points – 11th in Drivers' Championship
2020 title odds: 9/2
"So far this year the car is definitely an improvement, but it also has to be if you want to fight for the championship."
ALEXANDER ALBON
Last season: 92 points – 8th in Drivers' Championship
2020 title odds: 125/1
"There are different expectations at it is my second year, and I have now been to most of the tracks. But there is still a sense of getting up to speed with the team. It is only six months ago that I signed for Red Bull. Every week I have been in the car, it has been getting better and better, and this season is a continuation of that."
RENAULT
Last season: 91 points – 5th in Constructors' Championship
2020 title odds: 300/1
DANIEL RICCIARDO
Last season: 49 points – 11th in Drivers' Championship
2020 title odds: 500/1
"I have a few personal goals, but ultimately, I want to leave the race weekends feeling like I've completed the task at hand and given absolutely everything."
ESTEBAN OCON
Last season: Didn't drive last season
2020 title odds: 1000/1
"I've settled well into the team and that began in December with the test in Abu Dhabi, followed by regular simulator days and, recently, pre-season testing in Barcelona. It's great to be preparing for a season with everything tailor-made for you. I'm ready, I'm pumped, and I can't wait to go to Melbourne!"
WILLIAMS
Last season: 145 points – 10th in Constructors' Championship
2020 title odds: 2500/1
GEORGE RUSSELL
Last season: 0 points – 20th in Drivers' Championship
2020 title odds: 2500/1
"As Williams, we want to progress much further up the grid. Their goals aren't just to be fine at the back, it's over the next few years to be really making some big strides. Hopefully this is a turning point but it's a long road. I think McLaren are the best example of that, how long it took them to recover and look where they are now."
NICHOLAS LATIFI
Last season: Didn't drive last season
2020 title odds: 2500/1
"It's difficult to know how close we're going to be in Melbourne, because we don't know what the other teams are doing and obviously, it's winter testing and normally you know that everyone's going to find some time. We know we've improved. Have we improved more than other teams have improved? We still have to wait and see… but I'm definitely excited to see where we do stack up."